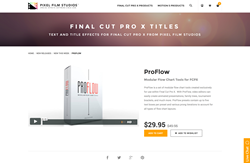 ProFlow allows FCPX editors to create and customize a variety of modular flow charts that can represent numerous chart layouts such as family trees, tournament brackets and much more
Aliso Viejo, California (PRWEB) September 29, 2016
"ProFlow allows FCPX editors to create and customize a variety of modular flow charts that can represent numerous chart layouts such as family trees, tournament brackets and much more," said Christina Austin - CEO of Pixel Film Studios.
ProFlow is a set of modular flow chart tools created exclusively for use within Final Cut Pro X. ProFlow's self-animating presets allows video editors to easily create any animated flow charts without having to set a single keyframe. Choose presets with up to three prong variations and up to five customizable text boxes. Utilize these simplistic titles for anything from corporate presentations to family trees.
ProFlow presets are completely customizable in Final Cut Pro X. Alter the width and length of each prong to fit type of layout imaginable. Adjust the fill color, fill opacity, outline color, outline width, and scale with simplistic sliders that can be found in the inspector window. Customize the style of ProFlow presets to complement the mood of any type of video.
ProFlow is completely self-animating. Start by placing the "Header" preset into the FCPX timeline. Final Cut Pro X users can alter the animation by using the animation drop-down menu provided under box controls. Next, layer a "Prong" preset above the "Header" preset and utilize on-screen controls to determine where each layer will animate to. Repeat these steps to stack ProFlow infinitely.
Use color, gradient, and/or custom background to complement ProFlow. After completing a flow chart, place a background preset above all of the layers used in the composition. Under background controls, users can adjust the color or gradient with basic color controls. For a custom background, use the custom preset and apply media to the drop zone provided.
Established in 2006, Aliso Viejo, California-based Pixel Film Studios is an innovative developer of visual effects tools for the post-production and broadcast community. Their products are integrated with popular non-linear editing and compositing products from Apple FCPX. Apple, the Apple logo, Mac OS X, and Macintosh are registered trademarks of Apple Inc. in the U.S. and/or other countries. All other trademarks and trade names are the property of their respective owners.