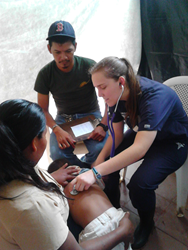 "Bridges to Community has greatly increased health care services for the Nicaraguan people so U.S. Chemicals, A Woman Owned Business is proud to be part of the next step, building a regional health care center" Stated company President, Carol Piccaro
Siuna, Nicaragua (PRWEB) September 25, 2016
This area of Nicaragua has been identified in the UN's Millennium and 2030 Sustainability Goals as the region most in need of increased health services and a focal point for the Nicaraguan government's efforts to improve those services. In partnership with the Nicaraguan Ministry of Health, Bridges to Community and the Building Goodness Foundation will construct an 8,000 square foot health center in the rural community of Hormiguero. Funding for the clinic, to date, has been raised entirely from private sources. Today, Carol Piccaro, President of U.S. Chemicals, A Woman Owned Business, committed to be a major contributor to this project.
Ms. Piccaro said, "U.S. Chemicals, A Woman Owned Business is dedicated to the principles of corporate social responsibility in our business practices and philanthropy. We are proud to support non-profits that are addressing clean water, health care and environmental issues. This health center will focus on a high priority region so I am honored to support this project and be part of a long-term solution to rural health care." Construction will start in December, 2016 and the center will open in January, 2017.
At today's announcement Hannan stated, "For over 15 years Bridges to Community has been working with the Nicaraguan Ministry of Health to increase medical services in this region and this health center will be a giant step towards providing all the residents of the area with on-going health care." The health center will operate 24 hrs/day, refuse no one, offer critically-needed medical services, including: preventative treatments, immunizations, medication, mosquito-borne illness information, care for women and children, generate long-term health benefits and create a model for the region's health program.
Nicaragua is the 2nd poorest country in the western hemisphere after Haiti. Hormiguero is a small rural community in the remote northeastern region of Nicaragua. Most residents are indigenous farmers living on about $1 per day. Currently, people walk or canoe up to 10 hours to reach a two- room medical outpost in this rural town.
Bridges to Community has been conducting health projects in Nicaragua for over 15 years: sending medical volunteers to work in the north east part of the country where there is the most need for medical services and we partner with other NGOs and the Nicaraguan Ministry of Health to build or improve the health infrastructure of the country in areas where it is most lacking for the residents.
We currently send approximately 8 medical teams a year who stay for 1 to 4 week periods in which they see roughly 50 patients per day. During this same time Bridges to Community has worked with the Ministry of Health to greatly expand the health care services for the rural population that lives in and around the Siuna area. In partnership with the Building Goodness Foundation Bridges to Community built a 270-foot well with a pumping and chlorination system for the Siuna hospital, which serves approximately 80,000 people, so they would have running water, showers flushing toilets and sinks throughout the facility as well as an incinerator to properly dispose of medical waste. In 2014 Bridges built a Maternity House in Hormiguero so women had a medical facility they could locally go to before, during and after their pregnancy. This facility is playing a key role in addressing the health problems women face throughout their pregnancies.
"So much has been achieved to increase health care services for the people of the Siuna area of Nicaragua so U.S. Chemicals, A Woman Owned Business is proud to be part of the next step, building a regional health care center there that will address the critical health issues the 18,000 people living there desperately need. We are especially excited in knowing that this clinic will greatly expand upon the health care needs of women and children who have suffered too long from inadequate health services" stated Carol Piccaro.
Higher level medical services in obstetrics will further tie the Clinic to the UN's SDG3's target of reducing the global maternal mortality rate and end preventable deaths of newborns. Current infant mortality rates in that region are 8 times higher than in the US. The Clinic will address SDG3's target of reducing premature deaths from communicable diseases through prevention and treatment. Patients will be educated on the importance of personal hygiene, mosquito nets, clean drinking water to reduce and prevent the spread of Dengue Fever, Chikungunya, Zika parasitic diseases, E-Coli, tuberculosis, hepatitis and other communicable diseases. In short, it will create a 360 degree change for the better in the lives of more than 18,000 area residents.
At the press conference Bridges to Community Executive Director, John Hannan said "We are so proud to be able to build this Health Center and to partner with U.S. Chemicals, A Woman Owned Business." In her closing remarks Carol Piccaro stated, "U.S. Chemicals, A Woman Owned Business believes that we must support local initiatives, such as our recent support of free health care for low-income people across the US, but our corporate responsibility looks beyond national borders to our global community. Supporting critical health care needs in Nicaragua is a UN priority and it is ours so we are proud to embark on this project with Bridges to Community."