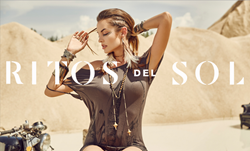 We're proud that Ritos del Sol is being produced in our native Mexico and thrilled to be launching in the U.S. market, where we have many fans who love our music and commitment to conservation and world harmony.
Los Angeles, California (PRWEB) September 26, 2016
Iconic Latin super group Maná today announced the launch of Ritos del Sol® - a fashion jeans sportswear collection for men and women designed to mirror the band's ongoing desire seeking harmony between man and nature
Sold online through ritosdelsol.com, the collection of jeans and related tops is a first for Maná. Known for their award-winning world music mixing pop rock, Latin pop, calypso, reggae and ska, the band's record-setting artists have long been social activists supporting causes designed to preserve earth's fragile eco-system.
Towards that end, a percentage of all Ritos del Sol merchandise sold on the company's online retail site will go to support Selva Negra, a nonprofit organization created by Maná (1995) that funds various environmental initiatives around the world. Selva Negra projects are based on a concept that encompasses conservation, rescue of the environment and social development. The core of its concept is environmental education; the core concept is to preserve, rescue and promote the progress of individuals and their communities.
"We've devoted a lot of time to the creation of Ritos del Sol," said Maná founding member, Fher Olvera. "We're proud that it's being produced in our native Mexico and thrilled to be launching in the U.S. market, where we have many fans who love our music and commitment to conservation and world harmony."
Ritos del Sol is first and foremost a high quality, moderately priced fashion collection. Manufactured in Puebla, Mexico by partner ADN, Ritos del Sol is priced at $25-30 for tops and $58 for jeans in a variety of washes and fits. Like the music of Maná, Ritos del Sol designs embrace a world aesthetic. Abstract prints representing sea turtles, jaguars, leopards, snakes, field tigers, the desert and jungle tastefully adorn the Selva Negra story behind the collection. Other print story groups include: Cosmos, Laberinto De Concreto and Inframundo.
"I've spent my entire career in this industry and have been fortunate to work with many talented people and good companies," said Michael Straka, President of Ritos del Sol, Inc. "But, I've never worked with a better team than the one we have put together at Ritos del Sol. We're very proud of what we have developed here, to include the product and the cause we are supporting. We're confident our customers will feel the same way."
About Maná
The band's story began in 1986 when four friends from Guadalajara, Mexico decided to get together and form a band that would be called Maná –meaning 'positive energy' in Polynesian. Their musical passion was to merge rock with Latin rhythms and those from the Caribbean. To date, Maná has captured over 60 music awards, including four Grammy Awards, eight Latin Grammys, five MTV Music Awards, 19 Billboard Awards and 15 Premios Lo Nuestro awards. Often referred to as the U2 of Spanish Rock, Maná is comprised of band members Fher Olvera (guitar/vocals), Alex González (drums), Sergio Vallín (lead guitar) and Juan Calleros (bass guitar). The influential Latin American band has sold more than 40 million albums worldwide and is currently playing sold out arenas across the U.S. as part of a 25-city Latino Power Tour. Maná's social media following is enormous, with some 17 million followers on Facebook alone.
About Selva Negra
Selva Negra Ecological Foundation is a nonprofit organization established as a Civil Association. Founded in 1996 by members of Maná, Selva Negra (Spanish for Black Forrest) develops unique programs specific to species preservation, environmental conservation and environmental education, participating in projects that also seek the development of the community. In this sense, the Selva Negra Ecological Foundation is the social arm of Maná.
About Ritos del Sol
Born from the soul of Maná, Ritos del Sol is an extension of the band's passion and creative energy - endeavoring to forge new paths through culture and positive influence around the world. Fusing a Rock 'N' Roll spirit with the natural world and originality with mindful innovation, Ritos del Sol creates quality products with a distinct character. Carefully crafted in its socially responsible workshops, Ritos del Sol is committed to total conservation and ultimate respect for the environment.
visit us at RitosdelSol.com
Press Contact:
Howard Ruben PR
818.823.1971; 818.445.4543
info(at)howardruben(dot)com