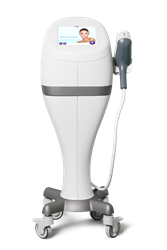 it represents the beginning of a process. We are currently holding 3-4 more evaluations in large chains worldwide and we are confident that our technology will enable them to offer new and safe options to their patients
(PRWEB) October 27, 2016
PerfAction Technologies, the leader for trans-dermal delivery in high velocity jets, has closed a deal with Shinagawa Clinics Japan. "The Shinagawa deal is an important landmark for PerfAction and it represents the beginning of a process. We are currently holding 3-4 more evaluations in large chains worldwide and we are confident that our technology will enable them to offer new and safe options to their patients," said Shy Zyman, CEO of PerfAction.
Shinagawa was searching for the next innovation in non-surgical treatments. When they came across EnerJet, they knew they had found it. The EnerJet brings new possibilities to the field of dermatology across many clinical applications. It tightens and regenerates skin, inevitably treating stretch marks and scarring caused by acne, keloid and C-sections. It also smoothens facial, neck and décolleté areas by thickening the dermis. The procedure offers instant results with enhanced patient experience and minimal downtime, enabling patients to go back to their daily lives immediately after the procedure.
EnerJet's Jet Volumetric Remodeling (JVR ) powered technology is the only intradermal remodeling system that creates a synergy of the micro trauma and healing compounds. EnerJet Kinetic Facelift or EnerJet Hairline Lift works by accelerating a carrier fluid jet of high-mass molecules of hyaluronic acid. Leveraging the power of HA, this triggers a cascade of wound healing, stimulating the subcutaneous tissues, including the SMAS and temporal fascia. EnerJet Kinetic Facelift induces tightening of the existing elastic fibers, leading to an immediate effect of skin tightening, while generating new collagen for a long term effect of dermal thickening and reduction in the appearance of wrinkles. With EnerJet, there are no needles, no risks of burns, and no tissue necrosis.
About Shinagawa clinics:
Shinagawa Skin Clinics is a leader in aesthetic medicine, with more than 49 branches, and over 400 plastic surgery specialists scattered all over Japan. With over 28 years of experience, its constant utilization of the latest technologies and techniques have allowed Shinagawa to enjoy the patronage of more than 4 million satisfied patients. Shinagawa Clinics' philosophy is to provide the latest in medical technology to its patients and clients with a supreme quality of patient care. To learn more, please visit: http://www.shinagawa.com/language/en/clinic.html
About PerfAction Technologies:
PerfAction Technologies is a medical technology company pioneering innovative and new treatment modalities for aesthetics and dermatological applications. The EnerJet platform brings the company's proprietary Jet Volumetric Remodeling (JVR) technology, which simultaneously delivers Kinetic Energy and a Healing Compound to create a unique micro-trauma profile and an optimal compound spread, enabling a controlled healing effect for superior clinical results in dermal remodeling, skin tightening and scar repair. To learn more about EnerJet, please visit: http://www.enerjet-med.com/#
Contact us to find out more!
Info(at)perf-action(dot)com
enerjet-med(dot)com