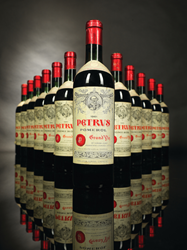 Not only was the sale room packed, but bidders came from far and wide to bid on one of the greatest selections of 1961 Bordeaux to come to auction in recent memory. - Zachys President Jeff Zacharia
White Plains, New York (PRWEB) September 27, 2016
Zachys Wine Auctions' first New York auction of the fall season was a smashing success with US$7.2m realized. Zachys audaciously brought over 1900 lots to the block only two weeks after the mammoth, 100% sold The Vault Part I auction in Hong Kong, and only three weeks before the October 15th The Vault Part II auction at Le Bernardin in New York City. But no matter—with the finest and rarest of the world for sale, 99% of the lots on offer found a buyer in the packed sale room.
Prices were strong across the board, and even though Zachys doesn't keep track of "world records," there were surely a few. An astonishing 29 lots realized over $20,000, 10 of those realizing over $40,000, and one over $140,000.
The 1961s from a longtime friend of Zachys ruled the day. 8 of the "Top 10" were '61s, with a 12-bottle case of Pétrus blowing past its pre-sale high estimate of $110,000 to sell for $140,875 the highest price ever paid for a "non-OWC" case of the wine. The Pétrus was followed by 3 cases of 1961 Latour, one at $51,450 and two at $49,000, then a case and 5 magnums of 1961 La Mission Haut-Brion selling for $49,000 each. Last but not least, an additional 2 cases of 1961 Latour, both realFineized $44,000.
The top Burgundy lot of the day was 6 magnums of 1985 La Tâche which realized $44,100, and a case of 2002 Domaine Leroy Romanée-St.-Vivant wasn't far behind at $34,300, well over its pre-sale high estimate of $30,000. Several other wines blew through their pre-sale estimates, including 4 bottles of Schrader RBS Beckstoffer To Kalon Vineyard Cabernet Sauvignon 2006 ($3920) (Zachys is the undisputed king of Schrader), two bottles of La Tâche Domaine de la Romanée Conti 1961 ($7350), and three bottles of Barolo Monprivato Giuseppe Mauro Mascarello 1989 direct from the private cellar of Giuseppe Mascarello ($3920).
Despite UN week, over 25% of the sold lots went to wine lovers seated at Smith & Wollensky for the auction, some of whom had flown in just for the two day event. Bidders logged on from all over the world to bid on Zachys live, while phone bidding was robust as well. What's more, a full 25% of lots sold at or above their pre-sale high estimate.
Jeff Zacharia, President of Zachys, commented, "We're delighted with the results of our September Fine Wines & Spirits auction. UN week didn't seem to slow anyone down—not only was the sale room packed, but bidders came from far and wide to bid on one of the greatest selections of '61 Bordeaux to come to auction in recent memory. Between our multi-vendor success, The Vault, and a special Bordeaux-direct consignment coming up in December, Zachys is without a doubt the auction house of the year. Bordeaux and rare Burgundy were strong in general last week, which bodes well for our next auction, the Vault Part II, a mere three weeks from now at Le Bernardin Privé on October 15th. Please email auction[at]zachys[dot]com to reserve your place, as we will fill up quickly!"
The Top Ten
Lot 3258: twelve bottles (750ML) of Pétrus 1961
Price realized: $140,875
Lot 3249: twelve bottles (750ML) of Château Latour 1961
Price realized: $51,450
Lot 3264: five magnums (1.5L) of Château La Mission Haut Brion 1961
Price realized: $49,000
Lot 3263: twelve bottles (750ML) of Château La Mission Haut Brion 1961
Price realized: $49,000
Lot 3251: twelve bottles (750ML) of Château Latour 1961
Price realized: $49,000
Lot 3253: twelve bottles (750ML) of Château Latour 1961
Price realized: $49,000
Lot 3250: twelve bottles (750ML) of Château Latour 1961
Price realized: $46,550
Lot 3252: twelve bottles (750ML) of Château Latour 1961
Price realized: $46,550
Lot 2449: twelve bottles (750ML) of Pétrus 2000
Price realized: $44,100
Lot 2458: six magnums (1.5L) of La Tâche Domaine de la Romanée Conti 1985
Price realized: $44,100