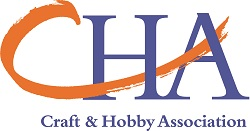 "The Hall of Fame lets us all take time to honor, remember and thank these individuals for their tireless contributions to our member-driven association," said Mark Lee, CHA Hall of Fame Committee Chair.
Elmwood Park, New Jersey (PRWEB) September 27, 2016
The Craft & Hobby Association (CHA) today announces five creative arts products pioneers will be inducted into the CHA Hall of Fame. Members of the CHA Hall of Fame are industry veterans and pioneers who have made extraordinary contributions leading to the growth and success of their organizations and the creative arts industry.
The 2017 CHA Hall of Fame inductees are Dave Catanzarite, Darice and Pat Catan's; Emma Gebo, Ben Franklin Crafts; Jerry Hacker, Dee's Delights; Catherine Kay, Elam – Kay & Associates; and Bob Ross, Joy of Painting Company.
"We are very grateful for all of those who have served our industry before us and whose passion, dedication and hard work had a hand in shaping our great industry. The Hall of Fame lets us all take time to honor, remember and thank these individuals for their tireless contributions to our member-driven association," said Mark Lee, CHA Hall of Fame Committee Chair.
2017 CHA Hall of Fame Inductees:
Dave Catanzarite dedicated over 40 years to the arts and crafts industry. He and his father, Pat Catanzartie (better known as Pat Catan) built Pat Catan's Arts & Crafts Stores and Darice (formerly known as Lamrite), providing thousands of products to retailers over his long career. Catanzarite worked tirelessly to develop great programs for his retail customers, teaching them how to form balanced assortments and making buyers of his products better at what they do. Catanzarite also gave back to his community. He created new employment opportunities for many; however, where he gave back the most was donating to the Special Olympics and Camp Cheerful. Now retired, Catanzarite is a legend among us today. His legacy lives on as the father of five children, several who are currently active professionals in the industry.
Emma Gebo, Ph.D. and her husband, Dave opened their Ben Franklin Crafts franchise store in Pocatello, Idaho in 1993. For Gebo, this venture was a second career. After achieving her Master's degree in Education she became a faculty member at Idaho State University in 1973. During the next 20 years, Gebo served as a faculty member and department chair; earned a doctoral degree; held leadership roles; and was awarded the Leadership Award from the American Association of Family and Consumer Science. Gebo switched her leadership focus to the craft industry when she accepted a position on the Ben Franklin Crafts National Advisory Committee. Since then, she has contributed to the industry through several roles, including but not limited to Board member, Secretary and President for Sierra Pacific Crafts, and Board member for the Association for Crafts & Creative Industries (ACCI), being directly involved in the merger with the Hobby Industry Association (HIA) to form CHA. CHA honored Gebo with the Meritorious Award in 2009. Even with her expansion career, Gebo values family more than anything. She and her husband have been married for 52 years, and have three children and six grandchildren.
Jerry Hacker was instrumental in developing the retail craft business during the 1970s. Hacker's career began in sales for craft wholesaler Image Design in Indianapolis, Indiana. In 1975, he became a general manager of Dee's Delights, Inc., which at the time was a new wholesale distributing company based in Cincinnati, Ohio. Six year later, Hacker bought the company and led it to being the largest distributor of dollhouse miniatures and building supplies in the world; Dee's Delights had a 650 page catalog and stocked over 10,000 skus. In addition to building Dee's Delights, he helped found the Mid-American Craft and Hobby Association (MACHA), the region's first regional craft trade association. Hacker served as an active member of the Board of Directors for MACHA and ACCI for several years, as well as the President of the Miniatures Industry Association of America. He also exhibited at HIA trade show for more than a quarter century.
Catherine Kay was a leader in the creative industry. Kay's first job in the industry was an assistant buyer for Ben Franklin Stores; she was promoted to buyer, the chain's first female buyer, in the late 1960s. From there, Kay's worked for Peds, a division of American Corporation, Penn Products, and Goody Hair Products. During her time at Goody, she built the first ever merchandise planogramming program, which was sold through Walgreens stores across America. Inevitably, Kay started her own company, Elam-Kay & Associates, through which she represented Pentaco, Model Lace and Fibre Craft Materials Corporation. Most notably, Kay managed the creation and launch of The Original Doll Baby Head by teaming up with Martha Nelson Thomas, whose dolls inspired the Cabbage Patch Kids craze of the 1980s. The Original Doll Baby Head was Ben Franklin Stores' first million dollar order. She was trailblazer who paved the way for the women who followed her in the industry.
Boss Ross was the first to bring painting to millions of viewers of all ages from around the globe through his public television broadcast, The Joy of Painting. For over 30 years, Ross has transformed individuals new to painting into canvas champions. Known for his gentle and encouraging words, Ross has a way of captivating a mass audience, teaching his painting technique and helping them make their own magic on canvas. His company, the Bob Ross Company was formed in 1981 and continues to operate as an active behind-the-scenes organization, even after the death of Boss Ross in 1995. The Best of the Joy of Painting has remained the most popular and most watched art show on television, uninterrupted since 1982.
The inductees were chosen by the CHA Hall of Fame Committee, which is comprised of CHA Board Members and member volunteers. The 2017 Hall of Fame inductees will be honored during an awards ceremony at the Creativation Celebration (formerly the CHA Foundation Gala) on Saturday, January 21, 2017 from 6:30pm – 10:00pm during the 2017 Creativation Show (formerly the CHA MEGA Conference & Trade Show). The 2017 Creativation Show will take place January 19-23, 2017 at the Phoenix Convention Center in Phoenix, AZ, and is the place where the global creative products community comes together to learn, connect and discover.
For more information about Creativation and to register for an attendee badge or purchase tickets for Creativation Celebration, visit http://www.CreativationShow.org.
ABOUT THE CRAFT & HOBBY ASSOCIATION
The Craft & Hobby Association (CHA) is an international non-profit trade association consisting of thousands of member companies engaged in the design, manufacture, distribution and retail sales of products in the worldwide craft and hobby industry. For more information about CHA, membership or its Creativation Show, visit http://www.craftandhobby.org.