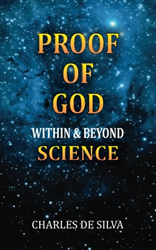 "I believe in God, but I didn't know why I believe in Him! But after reading this book I understood God. God is not only spiritual, He is also scientific. Thanks to the writer of this great book!" - 5-star Amazon Review
(PRWEB) October 04, 2016
Challenging the beliefs of atheism, "Proof of God Within & Beyond" contends that the universe could not have been the outcome of an accident or random chance, but is the result of an intentional plan by a Supernatural Power.
Proof of a divine existence is not established by science alone, but through logical reasoning based on obvious facts, according to author Charles De Silva. "It's my hope that this book may provide a school for thought to the honest atheist, substantiation to the agnostic, hope and affirmation to the believer. However, I am also aware of the fact that for the believer no proof is necessary and for the one who is determined not to believe, no proof is satisfactory," says the author.
All the arguments presented are logical conclusions based on common sense and scientifically established facts, not on imaginary hypothesis. The author clearly demonstrates the existence of an intelligent and omnipotent Designer who intentionally instituted all universal laws with stark precision and accuracy.
5-Star Amazon reviewers give "Proof of God" high praise:
"I believe in God, but I didn't know why I believe in Him! But after reading this book I understood God. God is not only spiritual, He is also scientific. Thanks to the writer of this great book!"
"I have been reading a fair few books regarding faith recently and this one was a great read, mainly because the subject is so interesting. The author extends logical reasoning to the debate, which is not always the case from some books, but this one is different and explains the theories in a very practical and well thought out way. The points that come across sure do make sense and I think this would be good for many people to read, but especially the more cynical youth of today. Well recommended."
"This book is really wonderful in terms of its content and unique level of ingredients … It's a must-read."
"I really enjoyed reading this book. The book has a good perspective and it is very objective. It is very clear in explaining that no proof of a Divine Existence can be established by reference to science alone. I highly recommend this book to anyone!"
The compelling new book PROOF OF GOD WITHIN & BEYOND SCIENCE (ISBN: 978-1-463-70581-7) is now available for $12.99 and can be ordered through Amazon.com or Barnesandnoble.com.