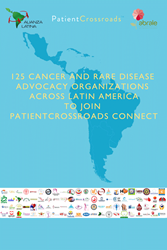 "All too often patients diagnosed with blood cancer face a lack of resources and access to treatments to cure the disease," said Merula Steagall, president and founder of ABRALE
Sao Paulo, Brazil (PRWEB) September 28, 2016
PatientCrossroads announced the expansion of its global Patient Insights Network (PIN) to include SerPaciente, the first patient-centered data collection program across an entire continent. At the All Together Against Cancer Congress in Brazil, SerPaciente, Inc. debuted its online interactive Patient Insights Network, a platform that puts patients at the center of a 21st century model for collecting, curating, coordinating and delivering data from patients and clinicians faster, and for far less, than traditional registries and CRO organizations.
ABRALE, Brazil's leading advocacy organization for blood cancers, is the first partner in SerPaciente. ABRALE will showcase the power of the PIN to the clinicians, investigators, organizations and policymakers attending the conference. SerPaciente will capture the journey of patients suffering from chronic myelogenous leukemia (CML) and multiple myeloma, with the goals of empowering patients and identifying gaps in cancer care and treatment in Latin America. The PIN features PatientCrossroads four standard surveys that address family history, diagnostic process, burden of care and quality of life along with customized surveys designed to capture additional disease-specific data.
The Brazilian National Cancer Institute (INCA) estimates that approximately 600,000 new cases of cancer will be diagnosed in 2016-2017 in Brazil. "All too often patients diagnosed with blood cancer face a lack of resources and access to treatments to cure the disease," said Merula Steagall, president and founder of ABRALE. "Through SerPaciente, patients will be able to tell their cancer story in a way that helps the entire medical community better understand their needs and barriers to care, so that together we can help all patients with blood cancer access the best medical treatment available", adds Alexandre Melo, CEO of SerPaciente, Inc.
Starting with CML and multiple myeloma, SerPaciente will provide a Patient Insights Network in Portuguese for patients across Latin America to contribute their health history, treatment experience, and outcomes, to assemble a longitudinal, de-identified database. The PIN makes it easy for patients to share their experience, contribute medical data, and maintain their privacy while being connected to the latest research, treatment and disease education opportunities. Clinicians, investigators, researchers, health organizations, and disease stakeholders can register to access the de-identified data and locate screened cohorts to recruit for research studies. Data is expected to inform policy decisions and program design to accelerate the availability of clinical research throughout Brazil.
"By amplifying the voice of patients, SerPaciente can pinpoint where to expand clinical studies and drug development investment," said Kyle Brown, CEO of PatientCrossroads. "The SerPaciente PIN leverages our 21st century model for breaking down research silos and delivering comprehensive patient data to help the medical community find better treatments, faster.
An Invitation to Patients
Interested patients with any form or stage of chronic myelogenous leukemia or multiple myeloma can join SerPaciente at http://www.serpaciente.com.br/. There, patients can opt-in to contribute their information, set their contact preferences and explore the collected de-identified data to compare their experience and treatment outcomes with others who have the same health conditions. SerPaciente will expand to additional cancers and diseases across Latin America in November 2016.
About ABRALE
ABRALE, the Brazilian Lymphoma and Leukemia Society, is a non-profit organization established in 2002 by patients and their families. Its mission is to improve access to ideal treatments and contribute for a better quality of life for people with blood cancers in Brazil, through research, awareness campaigns, advocacy, and support to patients and their families.
About PatientCrossroads
PatientCrossroads is a patient-centered data company in Silicon Valley with an innovative business model that optimizes the search for better treatments for diseases. We build and host Patient Insights Networks (PINs) to aggregate, curate and share patient and clinician reported health data. Our secure, cloud-based, multilingual PINs enable users to conduct targeted studies and quantify value during every phase of drug development and commercialization.
We deliver patient insights faster, and for far less, than traditional registries and CRO organizations. Our approach fosters ongoing patient engagement and enables advocacy organizations worldwide to unite their data collection efforts while maintaining their brand presence. Since 2007, we have developed programs for more than 400 diseases through our work with over 100 advocacy groups, NIH, PCORI, biotech and pharma companies. For more information, visit http://www.patientcrossroads.com.
About SerPaciente, Inc.
SerPaciente, Inc. is PatientCrossroads' partner in Latin America. For more information, visit http://www.serpaciente.com.br. Alexandre Melo, alexandre(at)serpaciente.com.br, +55 (11) 98689-3697