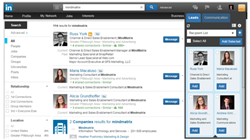 The social lead generation tool is a powerful enhancement to our existing social media marketing module which simplifies the social lead gen process
Pittsburgh, PA (PRWEB) September 28, 2016
Mindmatrix has enhanced its social media automation module to offer a specialized lead prospecting tool that helps users get the most out of their presence on LinkedIn.
The prospecting tool provides users with any LinkedIn user's email ID, regardless of their connection level with the user. Users can add them to their contact list in the Mindmatrix platform with a single click. The tool also allows users to procure the email IDs of all the members of a LinkedIn group.
Harbinder Khera, CEO, Mindmatrix, said, "We all know that social channels are a great platform to build brand on the web and to attract leads, but generating leads on social media requires ongoing time and effort. As a result, your social media activities get sidetracked when you are too busy selling. The social lead generation tool is a powerful enhancement to our existing social media marketing module which simplifies the social lead gen process. LinkedIn, the world's largest professional network is also a great source of B2B leads and is one of the leading social media platforms used today for B2B sales and marketing. This enhancement helps users get the most out of their presence on LinkedIn."
Apart from the newly added social lead prospecting tool, Mindmatrix already offers social media automation via social drips and auto blogging. It also allows users to create custom fan pages, cover images, profile pictures or backgrounds.
Click here to learn more about the social selling and social media marketing module of Mindmatrix.