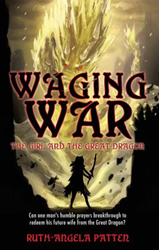 My prayer is that each of my readers gain insight into the supernatural world from a heavenly point of view
Pasadena, CA (PRWEB) September 30, 2016
Within the pages of Ruth-Angela Patten's new book, WAGING WAR - The Girl And The Great Dragon, ($19.49, paperback, 9781498434140) readers will follow the spiritual journey of the main character, Jennifer. Her very complicated life is based on struggles taken directly from the author's own life. Her story will remind readers that no human being on earth is ever completely alone. Patten explains that the heavenly Father assigns angels to each person before they are born – and these angels fight for each of person as individuals in His kingdom. The relatable experiences portrayed in this novel will certainly help young women of God on their quest for a deeper identity in Jesus Christ.
According to the author, this book was birthed out of necessity. Many years ago, Ruth-Angela Patten volunteered with a high school youth group at her church. The kids were nervously asking very deep questions about God – questions that she thought they should have already been taught in Sunday school. This broke her heart so she promised to write a novel teaching young adults how to pray skillfully and wisely.
Patten does not consider herself an expert theologian. However, she writes about spiritual warfare from her own experiences. She understands a few things about being an intercessor and watchman (or watchwoman) on the walls. She understands a bit how the enemy of one's faith operates. Patten encourages readers to know that one can fight back by focusing their eyes on Jesus, the Lion of Judah and keeping their hearts ever pure and holy before God. Intercession is not for everyone. She firmly believes that everyone should learn how to pray wisely.
"My prayer is that each of my readers gain insight into the supernatural world from a heavenly point of view," states the author. "I pray that each reader takes away some tool or tools for skillful and wise intercession over themselves or over others. I pray that the readers can sense the presence of God – the true Holy Father of Lights as they read. My desire for each reader is to know the deepness of the love of God."
Ruth-Angela Patten grew up in Northern California as a pastor's child. She attended church often and became a life-long student of the Bible. She attended a private Christian school across from the church where her parents worked and studied. Patten went on to graduate from California State University, East Bay in 2006. She holds bachelors and masters degrees in sacred music and classical music performance. She is a professional bassoon player and songwriter, and also enjoys prophetic art. Patten is passionate about worshiping God, healing prayer, and intercession. While studying at Fuller Theological Seminary, she met a very handsome theologian named Matthew and they were married in June 2013. They reside in Southern California and have one son named Ezekiel.
Xulon Press, a division of Salem Media Group, is the world's largest Christian self-publisher, with more than 15,000 titles published to date. Retailers may order WAGING WAR - The Girl And The Great Dragon through Ingram Book Company and/or Spring Arbor Book Distributors. The book is available online through xulonpress.com/bookstore, amazon.com, and barnesandnoble.com.
Media Contact: Ruth-Angela Patten
Email: ruthangelafearsthelord(at)gmail(dot)com
Website: achristianmystic.blogspot.com