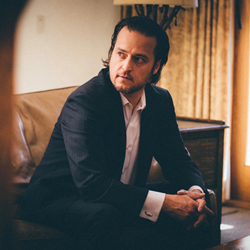 Watching the emotional effect my original music had on grown men and women for good was the motivation to learn how to record and distribute my music.
Satl Lake City, Utah (PRWEB) September 27, 2016
Paul Cardall' s name may not be familiar to you, but the independent artist recently debuted for the third consecutive time on the top of the Billboard charts without any major label support. This is a remarkable accomplishment for an independent artist with only one assistant and yet one more accolade for Cardall's success as an accomplished American pianist, composer, and producer.
"A New Creation" debuted #1 on the Billboard New Age Chart ahead of new age legends Suzanne Ciani and Enya. Cardall's album debuted at #2 on Billboard's Classical album chart just short of Youtube mega-star Lindsey Stirling's new album "Brave Enough". In addition, "A New Creation" debuted #1 on Amazon and iTunes ahead of Sony Masterworks artists Lang Lang and The Piano Guys.
The release "A New Creation" comes shortly after Cardall has garnered more than 1 billion—that's billion with a "b"—streams worldwide for his beautiful, healing music. On Pandora radio alone, Cardall averages 14 million regular listeners. This is nothing short of phenomenal for the pianist and his independent label, Stone Angel Music, which has just two employees responsible for releasing and promoting Cardall's music.
"Paul Cardall is one of the most accomplished and discriminating artists in the world," notes Steinway Artist Manager Jenn Gordon, referring to Cardall's inclusion on the Steinway artist roster of the greatest pianists in the world, including names such as Irving Berlin and Sergei Rachmaninoff. "His commitment to excellence in his artistic and professional achievements make it most appropriate that he is included on the Steinway Artist Roster."
"Each song on this album is designed to invoke deep spiritual feelings," Cardall notes. "A New Creation represents a journey from innocence at birth, through the ensuing brokenness of the human condition, culminating in mankind's ability to rise above that broken state to their full potential." Rich orchestral textures from arrangers Shane Mickelsen and Marshall McDonald paint images of nature's grandeur and tenderness.
"A New Creation" features soloists Nathan Pacheco (Disney Pearl Records; Yanni Voices tour), Patrice Tipoki (Fantine, Les Miserables international Broadway tour), The American Heritage Lyceum Philharmonic, American Heritage Youth Chorus and Stone Angel Music Orchestra under the direction of Shane Mickelsen.
About Stone Angel Music
Stone Angel Music is an independent, award-winning record label founded by Paul Cardall in 1999. The label has released and charted multiple artists on Billboard, including cellist Stephen Sharp Nelson (now of The Piano Guys), three-time #1 charting artist Paul Cardall, and #2 Billboard-charting pianist Jason Lyle Black. Stone Angel Music albums are distributed by Deseret Book Distributors, CDBaby, and Alliance Entertainment to listeners worldwide.