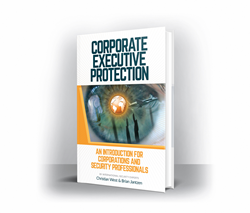 With their new book, Christian West and Brian Jantzen make an important contribution to the professionalization of the executive protection industry.
(PRWEB) September 28, 2016
AS Solution's new book, "Corporate Executive Protection: An Introduction for Corporations and Security Professionals" is off to a flying start.
Launched at the 2016 ASIS International Seminar & Exhibits in Orlando earlier this month, the book has been well received by industry insiders and has climbed to the top of its category on Amazon in just a few weeks.
"We're thrilled to get this project into print, and honored by the great things our colleagues in the protection industry are saying about it," says Christian West, one of the book's two authors and founder and CEO of AS Solution. "We hope CSOs and others working in corporate security – as well as the many men and women who want to work in the field – will find it useful in understanding and professionalizing this growing segment of the security industry."
Brian Jantzen, executive vice president at AS Solution and the book's co-author, concurs. "Putting this book together has been a labor of love. We've drawn on our years of working internationally for Fortune 500 companies, family offices and non-profits, and have tried to present what we've learned in a structured, straightforward way. Feedback so far indicates that the book is achieving what we set out to do: provide a solid introduction to, and help lift the bar for the entire protection industry."
"Corporate Executive Protection: An Introduction for Corporations and Security Professionals" is the first book of its kind. Informed by years of experience in protecting some of corporate America's most prominent people, the authors provide a wide-ranging, real-world overview of how to set up and run successful executive protection programs in corporate settings.
To order, please visit Amazon.com.
About AS Solution: AS Solution's experienced management team and 600+ employees worldwide deliver customized, global executive protection, secure travel, residential security, intelligence analysis, event security and more for the Fortune 500, private clients and philanthropic organizations.