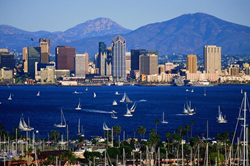 Belfast (PRWEB UK) 28 September 2016
The Antibody Engineering & Therapeutics conference which began over 25 year ago is an exhibition of Antibody Science, Technology and Networking. The conference will feature over 225 speakers on a range of topics as Preclinical and Clinical Development, Engineering Antibodies for T-Cell Therapy and the Interface between Passive & Active Immunotherapy. The conference also gives the opportunity to network with over 800+ industry and academic researchers, engineers and executives.
The Fusion team which consists of Dr Paul Kerr and Dr Richard Buick which will be attending the conference from December 11th to the 15th and showcasing their expertise.
"Looking forward to meeting fellow scientists in the antibody drug discovery fields and showcase Fusion's CDRx humanization platform and our expertise in related services from antibody drug discovery to clinical supply" Paul Kerr. Managing Director at Fusion Antibodies