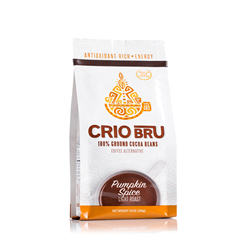 Anaheim, CA (PRWEB) September 28, 2016
Crio Bru today announced the company is bringing back Pumpkin Spice for the holiday season. Available online and on shelves now at Wegmans, Harmons, and Sprouts Markets, Pumpkin Spice proved popular last year in its test run at Harmon's grocery stores in Utah. With a hint of nutmeg, cinnamon, clove and vanilla, this brewed cocoa warms the cold fall and winter days. Pumpkin Spice is also available online at CrioBru.com, joining Crio Bru flavors roasted through the company's patent-pending process using cacao (cocoa) beans from Ecuador, Ghana, Dominican Republic, and Venezuela. The company will give out free samples at this week's Coffee Fest in booth #237 Anaheim, CA Convention Center: Hall E.
"There's a taste of harvest, Halloween, and Thanksgiving in a cup of Pumpkin Spice," states Dr. Eric Durtschi, CEO and founder for Crio Bru. "With a cup of Crio, you can almost close your eyes and see grandma pulling those steaming pumpkin pies from the oven. We bring a touch of home with this unique, aromatic brewed cocoa drink."
Sprouts Farmers Market, Inc. is a healthy grocery store offering fresh, natural and organic foods at great prices. Sprouts offer a complete shopping experience that includes fresh produce, bulk foods, vitamins and supplements, packaged groceries, meat and seafood, baked goods, dairy products, and more.
A neighborhood grocer since 1932, Harmon's 17 Utah stores pride themselves in being remarkable, so that people will be disappointed shopping anywhere else. Fresh food isn't all they do. Cooking classes, food demonstrations, community education, and kids activities offer unique opportunities for cooking skills and making food fun. Crio Bru joins a Harmon's lineup of the fine artisan products.
Wegmans is a storied 100-year saga starting in the day when Walter and John Wegman peddled fresh produce from a pushcart in Rochester, New York. Now with 92 stories in a six state area, the Wegmans name is one of the most visible in the U.S. according to a Harris poll. More than 32,000 company employees benefit from the company's scholarship program and the company has plowed more than $1 million back into the industry to develop more sustainable food packaging.
With headquarters in Utah, production soon goes online in Crio's new Santa Barbara, CA facility. Crio Bru's notoriety is growing rapidly with more distribution deals soon to be announced. Highlighted in Forbes and on Shark Tank, the company is a recent winner in the national Grow America startup competition. Crio Bru was included in Consumer Reports' "15 Healthy Snack Ideas" after its recent introduction at the Fancy Foods Show in New York City. See more about the company on YouTube.
About Crio Bru
Crio Bru is a brewed drink made from 100% cacao beans (cocoa beans), roasted to perfection. It is distributed both online and through a rapidly growing network of more than 1500 locations in almost every state. Named after the most prized of cacao beans, the Criollo, Crio Bru astounds your taste buds with its complex chocolatey flavors and subtle aromas of the world's finest cacao beans. It is 100% natural and 100% pure.
Crio Bru is an ultimate superfood. It is low in calories and contains no sugar, no fat, no dairy, no sodium, no cholesterol and practically no caffeine, yet is extremely high in antioxidants, theobromine and a host of other vitamins and minerals.
Media Contact:
John Pilmer, PilmerPR
801-369-7535
info(at)pilmerpr(dot)com