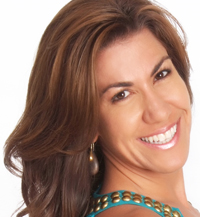 It's about understanding how to move women to action so you can make the impact and the income about which you're so passionate.
San Diego, CA (PRWEB) September 28, 2016
In Episode 10 of her new "Boost Your Sales and Lifestyle" podcast, "Inspiring Women Clients to Say Yes," Queen of Sales Conversion Lisa Sasevich shares her tips for heart-centered entrepreneurs to give potential women clients what they need to step forward and say "yes."
Listen to the podcast here: http://www.boostyoursalesshow.com/ten/
"I taught women for over six years how to understand and appreciate men," Sasevich said. "I got to work with a lot of women. It really required me being able to connect with and attract women clients firsthand."
She said it was so important to her that women learned the body of work she was teaching, that she spent a lot of time thinking about how she could inspire them to say "yes"—not only to her but also to themselves.
When she did make sales, she said, "I'd be so excited because I knew their lives were going to be transformed by our work."
Still, though, she worried about the women who hadn't signed up to work with her. In her effort to learn how to reach more women, she researched, studied, and adjusted. Now, she's sharing what she learned on this podcast.
Sasevich said heart-centered entrepreneurs and service professionals who learn how to inspire people to say yes, on the spot, can make a bigger impact, more quickly.
"Inspiring Women Clients to Say Yes" is designed for people who want strategies they can use immediately to develop an edge in selling in a way that attracts, honors, and respects women clients.
Heart-centered entrepreneurs, experts, and authors who listen to "Inspiring Women Clients to Say 'Yes,'" the tenth episode of Sasevich's podcast, will learn:

One thing entrepreneurs can do to connect instantly with women prospects.
What women prospects need before they'll take anyone's advice or coaching.
What to do after revealing the gap between where prospects are now and where they want to be so an entrepreneur can bolster a prospect's confidence that she can succeed.
And more.
"This episode is all about how to inspire women to say 'yes' to their own transformations," Sasevich said. "It's about understanding how to move them to action so you can make the impact and the income about which you're so passionate."
People who visit the podcast at the link below also receive a complimentary copy of Sasevich's eBook, "Boost Your Sales: How to Use Irresistible Offers … Without Being Salesy!"
Check out Sasevich's podcast here: http://www.boostyoursalesshow.com/ten/
Honored with the Distinguished Mentor Award from the Business Expert Forum at the Harvard Faculty Club, recipient of the coveted eWomen Network Foundation Champion award for her generous fundraising, and ranked on the prestigious Inc. 500/5000 list of America's Fastest Growing Private Companies for 2 years in a row, Lisa Sasevich "The Queen of Sales Conversion" teaches experts who are making a difference how to get their message out and enjoy massive results, without being salesy.
After 25 years of winning Top Sales Awards and training senior executives at companies like Pfizer and Hewlett-Packard, she left corporate America and put her skills to the test as an entrepreneur delivering high-impact sales-closing strategies for turbo-charging entrepreneurs and small business owners to great profits.
In just a few short years, Lisa created a multi-million dollar home-based business with two toddlers in tow. Lisa really is the undisputed expert on how to make BIG money doing what you love!
To receive monthly Sales Nuggets and Lisa's FREE sales training, "Boost Sales with Irresistible Offers," sign up today at http://www.FreeSalesTrainingFromLisa.com