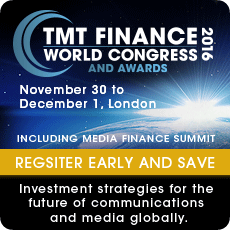 (PRWEB UK) 28 September 2016
Telecom, media, tech and finance leaders are meeting in London on November 30 to December 1 for the TMT Finance World Congress 2016 and Awards to assess global investment strategies for the rapidly consolidating telecoms, media and technology sector.
The annual senior executive event, which has been expanded this year to feature over 100 speakers across two days, gathers key leaders from the most active global operators with the leading TMT investment bankers, private equity investors, strategy and legal advisers.
"The TMT Finance World Congress continues to grow as telecom, media and tech investment activity intensifies globally and we are excited to expand the event further this year with the additional Media Finance Summit," said Dominic Lowndes, Managing Director of TMT Finance, the event organiser. "We have over 30 sessions including 16 breakout roundtable sessions, followed by the annual TMT Finance World Awards to recognise the stand out TMT M&A and financing deals and advisers for the year."
TMT Finance World Congress is focused on global strategies for investment, financing and mergers and acquisitions, as consolidation and convergence transforms the sector globally. A maximum of 350 senior executives attend the event which is split into 30 sessions including 8 plenary panels, 16 Peer to Peer Round Tables and an Awards Dinner.
Participating companies announced so far include: Telia, iliad, Altice Group, KPN, Vodafone, Axiata, VimpelCom, Etisalat, Telstra, PTCL Group, Channel 4, MTG, RTL, EE, Numericable SFR, IHS Towers, Cellnex, INWIT, Digital Bridge, Six Degrees Group, O3B Networks, CityFibre, Next Generation Data, ABRY Partners, Accenture, EY, Goldman Sachs, Citi, IFC World Bank, European Investment Bank, Societe Generale, UBS and Nomura.
Session themes include: TMT Europe and World Leader Panels; TMT M&A Panel; Enterprise Cloud; Mobile Towers; Raising Finance, Private Equity in TMT; Media and Content; Internet Infrastructure, Investing in Datacentres, Digital Investment and the Media Finance Summit.
The fifth annual TMT Finance World Awards Dinner takes place immediately following the first day of the conference at the Grange Hotel, St Pauls, London, to recognise outstanding investment and advisory activity in TMT globally. Awards will be presented for Telecom, Infrastructure, Media and Tech Deals of the Year, M&A Adviser, Growth Story, Financing Bank, Legal Adviser and Leadership. Nominations close on September 30 at http://www.tmtfinance.com/world/awards
For more information go to http://www.tmtfinance.com/world
Register to attend at http://www.tmtfinance.com/world/register