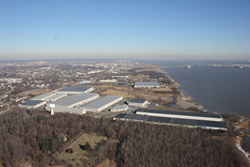 We are honored to be a part of Delaware Skills Center's all important mission of creating pathways to rewarding careers for adults here in Newcastle", said HHA Vice President and C.O.O, Thomas J. Hanna
(PRWEB) September 29, 2016
Harvey, Hanna & Associates, Inc. (HHA) is pleased to welcome The Delaware Skills Center to the Twin Spans Business Park in New Castle, DE.
The Delaware Skills Center (DSC) recently leased 34,823 square feet of space at 500 Ships Landing Way in the Twins Spans Business Park (TSBP) in New Castle, Delaware.
The Delaware Skills Center is an adult vocational technical training center that provides skills training for adults seeking rewarding careers. As a division of the New Castle County Vocational Technical School District, DSC has been offering skills training and job placement opportunities to Delawareans since 1962. All DSC courses are taught through hands-on training and classroom instruction and have provided employment opportunities for thousands of graduates. Key curricula include Computer Help Desk Support, Networking, Mobile Device Support, Electrical Trades, Construction- Carpentry, HVAC/Energy Technician, Practical Nursing, Welding and Fabrication, Multi-Craft Industrial Trades, a new weekend offering in JAVA and SQL Programming and a Career Pathways program.
"We are honored to be a part of Delaware Skills Center's all important mission of creating pathways to rewarding careers for adults here in New Castle," said HHA Vice President and C.O.O, Thomas J. Hanna. "Delaware Skills Center is an invaluable institution that will continue to boost the local workforce throughout the New Castle County and beyond."
"The Delaware Skills Center is pleased to be a part of the Twin Spans Business Park," said Eric Wells, DSC Supervisor. "A data study of participants from the past 10 years revealed that the Ships Landing Way location is central to our client base," he said. "The location will contribute to our overall mission to provide concentrated career courses that lead directly to job placement for adults looking to start a new profession." Wells said that beyond the quality of the upgraded learning space for students and staff, the parking and setting have already enhanced the image of DSC.
TSBP is considered by many to be the premier distribution campus in the mid-Atlantic region, featuring 1.85 million square feet of Class A commercial warehouse space spread across 135 acres of land along the Delaware River. Twin Spans further offers superior logistics throughout the mid-Atlantic region and points beyond, with immediate access to I-95, I-295, I-495 and the Delaware Memorial Bridge.
Paul Bryant and Jeff Shahan of SB Real Estate in Wilmington served as Delaware Skills Center's tenant representatives for this transaction.
Harvey, Hanna & Associates (HHA) is a full service Commercial Real Estate Redevelopment Company featuring 3,000,000 square feet of prime location commercial, retail, and industrial real estate in Delaware.
*********************************************************************************************
For Additional Information, Please Contact: Ryan Kennedy, 302-323-9300 Ext. 17 / rkennedy(at)harveyhanna(dot)um com