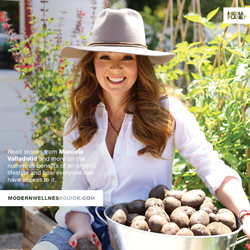 [My oldest son] Fau tastes the difference between organic and conventionally raised. He's educated in it, so he doesn't crave junk. It can be as simple as growing cherry tomatoes
(PRWEB) September 28, 2016
The print component of "Organic Living" is distributed within Wednesday's edition of the San Francisco Chronicle, with a circulation of approximately 174,000 copies and an estimated readership of 542,000. The digital component is distributed nationally, through a vast social media strategy and across a network of top news sites and partner outlets. To export the digital version of the campaign, click here
Popular Food Network star of the hit show, Mexican Made Easy, Marcela Valladolid, graces the cover of the print publication. In an exclusive interview, she discusses her top tips to get kids excited about eating organic foods. She says, "[My oldest son] Fau tastes the difference between organic and conventionally raised. He's educated in it, so he doesn't crave junk. It can be as simple as growing cherry tomatoes." Marcela also shares her own kid-friendly organic recipe, which is super easy to make and outlines everything you need right in campaign.
This campaign was made possible with the support of Dickey's Barbecue Restaurants, Agricultural Institute of Marin, Nasoya Foods, SharkNinja, Foster Farms, OCHO Candy, Union Protein, The Organic Trade Association, the CCOF, The Organic Center, The Non-GMO Project, The Celiac Disease Foundation, Beyond Celiac and The Gluten-Intolerance Group.
About Mediaplanet
Mediaplanet is the leading independent publisher of content-marketing campaigns covering a variety of topics and industries. We turn consumer interest into action by providing readers with motivational editorial, pairing it with relevant advertisers, and distributing it within top newspapers and online platforms around the world.