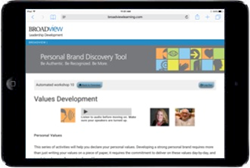 "The Broadview Personal Brand Discovery Tool is the second generation of a product that has been used by tens of thousands of business professionals that puts the concepts in my book into action, developing more effective and confident leaders."
Minneapolis, Minnesota (PRWEB) October 03, 2016
Research has proven and the most respected leadership development thought leaders all agree - Authenticity is the most important quality of the world's most respected leaders. That's the conventional wisdom; what's missing are the tools to make it common practice. Broadview has just released an innovative new development tool providing leaders, of all levels, a practical tool to become a more effective, authentic leader. The Broadview® Personal Brand Discovery Tool is the most innovative, practical leadership development experience delivering on the promise of authentic leadership.
Powerful Integrated Learning Design. The Broadview® Personal Brand Discovery Tool delivers on the two most important development needs of gaining the advantages of authentic leadership.

Defining a leader's authentic qualities and understanding how well a leader's qualities are perceived by team members and peers.
The Broadview® Personal Brand Development Tool uses approachable, personal podcast tutorials and interactive tools guiding each leader through a fast-paced, engaging learning experience.
Authentic leadership begins with gaining commitment to one's authentic qualities. The unique, interactive development tool guides individuals through a personalized learning experience to identify the qualities that are truly authentic to them, beginning with determining each leader's 5 most important personal values.
Measures with statistical accuracy how their authentic qualities are currently being perceived by team members, peers, senior executives. To learn more about the important role of perceptions in being an authentic leader http://tinyurl.com/pgbg8xd and http://tinyurl.com/zlszkpp
Uses a set of personalized action-learning tools to be more consistent in leading with authenticity.
For more detailed information about this product http://www.broadviewlearning.com/training-programs/personal-brand-discovery-tool/. (Check out the partying penguins!)
According to Kathryn Henriksen, the lead developer of the product, "The pay-off of this innovative development tool is providing leaders with a practical, easy-to-use digital program enabling her/him to be respected as an authentic leader in their organization."
Proven Content. The content for this e-learning experience is based upon the pioneering, best-selling book on personal brand, Be Your Own Brand. Karl D. Speak, the principal author of Be Your Own Brand says, "The Broadview Personal Brand Discovery Tool is the second generation of a product that has been used by tens of thousands of business professionals that puts the concepts in my book into action, developing more effective and confident leaders."
This self-paced, digital tool has been developed based upon more than 10 years of empirical research and 6-months of in-field use by more than 500 leaders, ranging in experience from emerging leaders to seasoned senior executives.
In addition to its use as a stand-alone leadership-development module, the Broadview Personal Brand Discovery Tool can be integrated into a blended learning leadership development curriculum. Examples of how Broadview Personal Brand Discovery Tool is being used in leadership development programs http://www.broadviewlearning.com.
For information about the Broadview Personal Brand Discovery Tool contact info(at)broadviewlearning(dot)com.