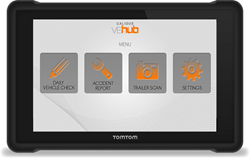 We have always prided ourselves on our vehicle safety processes in relation to DVSA and FORS and the CALIDUS VEhub solution is helping us ensure compliance
London (PRWEB UK) 3 October 2016
Forterra asked if OBS Logistics, in conjunction with TomTom Telematics, could supply an electronic DVSA compliant vehicle check process. In addition, as a FORS member, Forterra also wanted to see if FORS vehicle check items such as 'is camera working', could be electronically captured in the same process.
"Our drivers have found the CALIDUS VEhub app from OBS Logistics to be really easy to use, and it has helped us to become more effective and efficient with our vehicle check reporting and management. We have always prided ourselves on our vehicle safety processes in relation to DVSA and FORS and the CALIDUS VEhub solution is helping us ensure compliance," said Dale Clarke, Forterra's National Transport Manager.
The solution has allowed Forterra to check the time and location of Vehicle checks in the fleet through GPS positioning. Forterra transport managers are automatically informed of any defect recorded, and are able to close off defects reported by recording when the rectification or repair is carried out.
The last vehicle check performed on the tablet is also available if DVSA pull over any of the fleet for a spot check.
The solution is deployed on the TomTom Pro 8275, a ruggedised driver terminal that can be customised for industry or company specific workflows.
End. 22nd September, 2016
For more Information contact:
Stephen Haycock, Director of Marketing, OBS Logistics
Stephen(dot)haycock(at)anisagroup(dot)com
Tel: +44 (0)207 881 2500
About OBS Logistics
OBS Logistics provides Warehouse Management Software and Transport Management Software to help manage complex logistics and supply chain operations. Our CALIDUS Total Logistics Software solutions and mobile solutions are used by leading 3PL providers and owner operators to deploy lean enterprise concepts. Over 11 million Transport orders are processed through OBS Logistics managed services annually, helping our customers to control costs, increase visibility and measure performance. OBS Logistics customers include British Gas, Carpetright, DHL, Hanson, NHS Blood & Transplant, Potter Group, Wickes and Wincanton. OBS Logistics is part of the Anisa Group of companies.
For more information, please visit http://www.obs-logistics.com
About Forterra
Forterra is a leading manufacturer of a diverse range of clay and concrete building products, used extensively within the construction sector, and employs over 1,600 people across 18 facilities in the UK. It is the second largest brick and aircrete block manufacturer in the country, and the only producer of the iconic London Brick. Other trusted brands from Forterra include Thermalite, Conbloc, Ecostock, Butterley, Cradley, Red Bank, Jetfloor and Formpave. http://www.forterra.co.uk
About TomTom Telematics
TomTom Telematics is a Business Unit of TomTom dedicated to fleet management, vehicle telematics and connected car services. WEBFLEET is a Software-as-a-Service solution, used by small to large businesses to improve vehicle performance, save fuel, support drivers and increase overall fleet efficiency. In addition, TomTom Telematics provides services for the insurance, rental and leasing industries, car importers and companies that address businesses as well as consumers.
TomTom Telematics is one of the world's leading telematics solution providers with more than 650,000 subscriptions worldwide. The company services drivers in more than 60 countries, giving them the industry's strongest local support network and widest range of sector-specific third party applications and integrations. More than 45,000 customers benefit every day from the high standards of confidentiality, integrity and availability of our ISO 27001:2013 certified service, re-audited in November 2015.
For further information, please visit tomtom.com/telematics
Follow us on Twitter @TomTomWEBFLEET