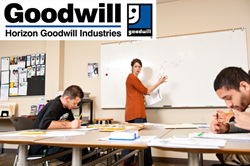 John McCain, CEO of Horizon Goodwill. "We are in the business of helping people become successful and improving their quality of life."
Hagerstown, MD (PRWEB) September 29, 2016
Horizon Goodwill runs a host of different programs that remove barriers for adults and creates opportunities for them in employment. One of the programs is the adult basic education and GED classes given by the Allegany College of Maryland Adult Basic Education Program at Horizon Goodwill's facility in Cumberland. This year in appreciation of National Adult Education and Family Literacy Week, Allegany College of Maryland is honoring Horizon Goodwill and recognizing their commitment to adult literacy at a reception on September 30, 2016.
"Education is key to helping adults achieve a higher income and we also realize that it is the catalyst that helps many attain a college education," says John McCain, CEO of Horizon Goodwill. "We are in the business of helping people become successful and improving their quality of life. We are grateful for the opportunity to work with Allegany College of Maryland and continue to enhance the lives of adults in our community."
The Adult Basic Education Program in Allegany County, Maryland offers help to people who want to earn a high school diploma or high school equivalent skills. The program will continue indefinitely, and adults can enroll on any day of the class. "It is a rolling enrollment so anyone who desires to continue their education can come in when it is convenient for them," says McCain. "The classes are complimentary and open to the public. We want to make it as simple as possible to obtain your GED because we understand that you will earn more money in your lifetime if you have it." The program runs Monday, Wednesday, and Friday 9 to noon. Subsidiary programs offered through Allegany College of Maryland are Adult Basic Education classes, GED preparation, National External Diploma Program (NEDP), Family Literacy classes, and Essential Workplace classes.
"We are here to help individuals earn their education and their Maryland high school diploma," says Deborah Miller, Instructional Specialist of the Adult Basic Education program, "Education is personal-it belongs to you." The Adult Basic Education program helps around 300 people each year. Currently, there are 8 Goodwill trainees in the program, and additional classes will take place throughout Allegany County. The Adult Basic Education program is grant funded through the Maryland Department of Labor, Licensing, and Regulation and administered locally by Allegany College of Maryland Continuing Education. There are some small fees for final testing. For more information about enrolling in the Adult Basic Education program, call 301-784-5445.
Goodwill has been rated #1 above the global brands Amazon and Google for the Brand World Value Rankings for 2016. Horizon Goodwill Industries, whose mission is "Removing Barriers, Creating Opportunities," is a non-profit organization dedicated to ensuring that all people have access to employment despite significant obstacles. Horizon Goodwill serves over 5,000 clients annually in a 17 county region that includes parts of the states of Maryland, Pennsylvania, Virginia, and West Virginia. For more information, please call 301-784-5445 or visit http://www.horizongoodwill.org.