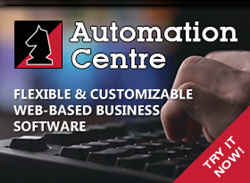 Experience complete front end business process solutions for your organization with Web based solutions for Projects, Purchasing, Time Reporting, Help Desk and HR with Tracker Suite Version 5.0.
(PRWEB) October 03, 2016
Automation Centre is pleased to announce the release of Tracker Suite 5.0 (http://www.TrackerSuite.Net), the latest version of its web based enterprise productivity solution suite. Tracker Suite Version 5.0 continues to build upon its core themes, which has resulted in successful customer implementations for more than 20 years: Visibility, Collaboration, Communication, and Integration.
"Tracker Suite 5.0 is a landmark release," said Steven Birchfield of Automation Centre. "It has significant performance improvements- it's faster than previous versions, in many cases an order of magnitude faster, and there is a new security model as well as productivity features. But the greatest achievement of this release is the power it places in the hands of individual users and the organizations that use it."
"With Tracker Suite 5.0, users can easily shape their own experience, how data is presented to them, and how they work with it. Organizations can customize security, forms, menu choices, and workflow to wrap around their existing processes. All of this happens without anyone having to touch a line of code. Our innovative release process of defining release themes, platform changes, and feature targets has once again produced a product that is second to none."
Tracker Suite 5.0 Release Themes:
With Tracker Suite Version 5.0, there is a complete technology upgrade and overhaul which creates a faster, more scalable, and more compatible Tracker Suite.

Latest browser support for Chrome, IE, Firefox and Safari.
Everything is faster and manages memory better and scales to larger data sets.
Better security, including the removal of Adobe Flash,
Localization improvements to better handle multi-national organizations including: time zones, foreign language, and multi-currency transactions.
Improved Visualizations:

Ability to split large horizontal views to manage horizontal data.
Visual resource scheduling options with drag and drop across projects.
Improved drag and drop assignment boards.
New charts, including Tree Graph.
Better reporting, with multiple pivots and percentage options.
Visually organized Folder Views for Programs, Projects, and Customers.
Interested parties may register for immediate access to a free evaluation site at: http://www.trackersuite.net/RFI2/InfoRequest.aspx.
For more information, please contact: info(at)acentre(dot)com.
About Automation Centre
Automation Centre (http://www.Acentre.com) has been successfully providing business solutions since 1994, and is a leading provider of advanced Project Management, Time Reporting, Purchasing, and Help Desk solutions for organizations of all sizes. TrackerSuite.Net is a trademark of Automation Centre. Tracker Suite and TrackerOffice are registered trademarks of Automation Centre.