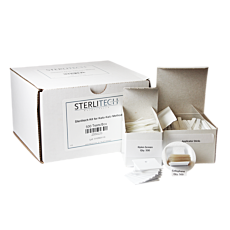 "Improving the accessibility of the Kato Katz Kit ensures that infected patients continue to receive a diagnosis through a reliable technique and subsequently receive treatment; it's helping to save lives."
Kent, WA (PRWEB) October 04, 2016
Parasites have met their match. Sterlitech, an industry leader in unique micro and sub-micron filtration products, announced today that its Kato-Katz Technique Diagnostic Kit is now available for immediate use in the field. The kit was developed in response to the unanimous difficulty among research groups, control programs, and health organizations to source a fecal-sample-based test kit. This kit enables field scientists to identify the presence of eggs from parasitic Soil-Transmitted Helminth (STH) worms in infected patients.
This is the first time that the kit has been made available from a source in the United States. Until now, research groups and health organizations alike had to rely on a limited availability of kits. Schistosome infections continue to be common where poverty prevails and hygiene behavior, water supply, and sanitation are often deficient. The worms live in the intestine of infected people and can cause a range of gastrointestinal and reproductive complications, if left untreated.
"Improving the accessibility of the Kato-Katz Kit ensures that infected patients continue to receive a diagnosis through a reliable technique and subsequently receive treatment; it's helping to save lives," says Sterlitech's President Mark Spatz.
Included in each Kato-Katz technique kit are the tools and instructions necessary for carrying out 500 tests. The entire kit is contained in a small box for easy use in field hospitals and clinics, enabling medical staff to diagnose infection levels in remote locations. The kit complements the Schistosome Kit, which detects Schistosome eggs in urine. Both kits are currently available at http://www.sterlitech.com.