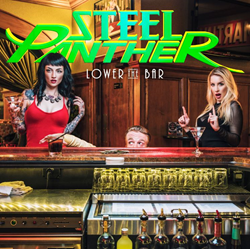 Munich, Germany (PRWEB) September 30, 2016
Steel Panther, the glam rock band known for capturing the hearts of girlfriends and wives around the globe, announced today while on tour in Munich, Germany that their new album, "Lower The Bar," will go on sale February 24, 2017. For the fans that can't hold back their Panther urges, pre-orders are now available on iTunes and Amazon, with deluxe bundle packages exclusively available at SteelPantherRocks.com and at Pledgemusic.com/steelpanther.
"LTB" is Steel Panther's fourth studio album and is the follow-up to their 2014 chart topper, "All You Can Eat," which debuted at #1 on Billboard's Top Current Comedy chart and #24 on their Top 200 Album chart.
To celebrate this historic moment in Rock N' Roll history and as a thank you their "fanthers," the band has just released "She's Tight," the music video for the new album's first single, which is now available on Vevo. "She's Tight" is Steel Panther's "sexified" version of the Cheap Trick song and promises the skin that was left out of the 1982 hit. Cameos in the video include Cheap Trick's Robin Zander, Bobbie Brown, Paris Michael-Jackson (the late singer's daughter) and Tony Palermo (Papa Roach).
"Cheap Trick was one of my favorite bands when I was younger. I'm so proud to have recorded this track for our new album and also to have Robin Zander himself sing with me on the song. It's like a dream come true," said Steel Panther lead singer Michael Starr.
Earlier this year, Steel Panther premiered "Live From Lexxi's Mom's Garage," the band's first full length film/DVD featuring a live ten-song acoustic concert interspersed with comedic vignettes. The "National Rock Review" called the film, "The best night in you've had in pretty much forever." XXXclusive DVD bundles of "Live From Lexxi's Mom's Garage" are available at, SteelPantherRocks.com
Steel Panther is currently on a European headlining run with dates in Austria, Italy, Germany, France, Luxembourg, Belgium, Netherlands and the UK (Wembley Arena) followed by national US tour through January 19th, 2017. A full tour schedule can be found at the bottom of this release.
Click here to download the album cover art for "Lower the Bar."
ABOUT THE BAND:
For the uninitiated, Steel Panther was formed in 2000 and is Michael Starr (lead singer), Satchel (guitarist), Lexxi Foxx (bass) and Stix Zadinia (drums). Hailing from Los Angeles, the epicenter for rock n' roll in all its debauchery and glamour, Steel Panther has established themselves as the world's premier party band, melding hard rock virtuosity with parody and criminally good looks. With three full-length albums, touring across the world, platinum-level You Tube status and high-profile television appearances such as Jimmy Kimmel Live, Larry King Now, and FOX NFL Sunday, the band is touring in support of their latest effort, All You Can Eat (Open E Records via Kobalt Label Services).
Of All You Can Eat, Rolling Stone avowed, "There's a reason Steel Panther have transcended their origins as a cover band playing the Sunset Strip," while Metal Sucks declared, "Steel Panther's concept is genius…their songwriting is…preposterously snappy – and relatable." Click HERE to check out the music video for "The Burden of Being Wonderful."
STEEL PANTHER 2016 TOUR DATES
To find tickets to upcoming shows, please visit the Steel Panther website.
9-30 Munich, Germany – The Zenith Theatre
10-1 Berlin, Germany – Huxleys Neue Weit
10-2 Hamburg, Germany – Gross Freiheit 36
10-4 Cologne, Germany – Palladium Köln
10-5 Frankfurt, Germany - Stadthalle Offenbach
10-7 Stuttgart, Germany – Porsche Arena
10-8 Lille, France – Splendid
10-9 Paris, France – La Cigale
10-11 Luxembourg, Luxembourg – Rockhal
10-12 Brussels, Belgium – AB
10-13 Tilburg, Netherlands – O13
10-15 London, UK – The SSE Wembley Arena
10-16 Cardiff, UK – Cardiff Motorpoint Arena
10-18 Manchester, UK – Manchester Arena
10-19 Birmingham, UK – Birmingham Barclay Card Arena
10-31 Los Angeles, CA – The Roxy Theatre
11-2 Portland, OR – Roseland Theatre (Daze of The Dead)
11-3 Spokane, WA – Knitting Factory Concert House – Spokane
11-4 Boise, ID – Knitting Factory
11-5 Anaheim, CA – City National Grove of Anaheim
11-9 Los Angeles, CA – The Roxy Theatre
11-11 Riverside, CA – Riverside Municipal Auditorium
11-12 San Diego, CA – House of Blues San Diego
11-15 Los Angeles, CA – The Roxy Theatre
11-17 Las Vegas, NV – Drai's Beach Club and Nightclub
11-19 Seattle, WA – Showbox SODO
11-22 Los Angeles, CA – The Roxy Theatre
11-26 San Francisco, CA – The Regency Ballroom
11-29 Toronto, ON – Sound Academy
11-30 Cleveland, OH – House of Blues Cleveland
12-2 Indianapolis, IN – Egyptian Room at Old National Center
12-3 Detroit, MI – The Fillmore Detroit
12-4 Chicago, IL – House of Blues Chicago
12-6 Louisville, KY – Mercury Ballroom
12-8 St. Paul, MN – Myth Live –KXXRX Girl Holiday Show
12-9 Madison, WI – Orpheum Theatre – WJJO's Annual Xmas Show
12-10 Cincinnati, OH – Bogart's
12-11 St. Louis, MO – The Pageant
12-31 Scottsdale, AZ – Livewire
1-19 Las Vegas, NV – Drai's Beach Club and Nightclub