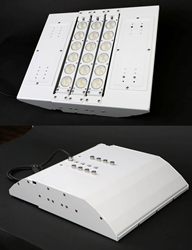 2C Technology offers the most flexible and most efficient LED upgrades for car dealerships
Dallas, Texas (PRWEB) October 03, 2016
2C Technology a US based engineering and technology company that designs and manufacturers LED lighting solutions, recently announced the introduction of their revolutionary Variable High Power LED Floodlight that operates at over 190 lumens per watt and the ability to fund every project with a portion of the savings. This LED and funding system is perfect for the automobile industry where efficiency, reliability, design, and cash are paramount. This new (patent pending) floodlight is unique and available at a price point that provides immediate savings for car dealers. The light exceeds operational specifications of any floodlight or parking lot fixture currently on the market. It is "future-proof™", meaning a proprietary design that allows technological upgrades, maintenance and minor adjustments to be made without having to replace the entire fixture.
President and CEO,Robert Owens says, "Our light, in conjunction with a savings based funding, allows our customers get to be cash positive month one while getting the most efficient and longest lasting LED lighting in the world. The sales process removes the hassle of tying up cash in an LED upgrade. Nissan, Honda, Volvo, Ford, Toyota, and GMC have all had our lights installed under our funding system and none of them had to come out of pocket to convert the entirety of their facility."
The LED funding system for auto dealerships funds the entire project for five to six years with the savings from the conversion. These savings are measured and are in real time so there is no savings estimates in the billing. The funding system does not show up as a debt in accounting, rather, it shows up as another utility. Combining one of the most advantageous funding systems with the most efficient and effective LED products from 2C Technology make for a worry free conversion and allows car dealers to keep their cash.
Owens added, "Because of our efficiencies in the LED industry, we have been sought out by some of the largest auto dealers in the USA. Now we have a way to provide our lights by funding through the savings. We can now upgrade entire facilities inside and out."

Highest lumens per watt on the market >190 Lumens per watt
Lowest cost per kilowatt
Lowest funding costs in the industry
Quicker ROI than almost any other LED light.
2C Technology manufactures all the LED products necessary to upgrade entire facilities as a one-stop-shopping provider.
The parking lot fixtures have adjustable LED Bars that allow variable illumination coverage and feature premium optics that are 2 to 5 times brighter than conventional LEDs. This revolutionary fixture fulfills over 90% of all commercial hi-brightness requirements and is the first LED fixture with interior space to house remote control electronics. The proprietary lensing allows precise control of light, meaning, we don't put light where it is not wanted.
Fixtures are available in 40w, 80w, 120w, 160w, 200w and 240w configurations. 2C Technology is currently moving to the Dallas Fort Worth area. For further information contact our representatives: Josh Allison 817-713-5359; Corporate Headquarters 337-210-8802 and ask for Robert or visit our website http://www.2ctechnology.com.