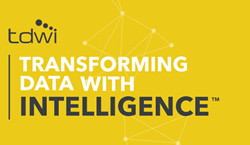 TDWI is committed to helping our customers transform data into insight, innovation, and impact with the power of intelligence. -- Meighan Berberich, President, TDWI
San Diego, CA (PRWEB) October 03, 2016
Today at the TDWI San Diego Conference, the leading forum for analytics and data management training, TDWI announced a series of new and improved offerings for the data management, data science, BI, and analytics community. These announcements span across the TDWI range of educational and research offerings, including a new web site, a broad set of new benefits for TDWI Members, and coming on the heels of the successful San Diego conference, an expanded list of data-centric events for 2017.
"TDWI has been evolving with our Members for more than 20 years now" said Meighan Berberich, president of TDWI. "TDWI is committed to helping our customers transform data into insight, innovation, and impact with the power of intelligence. The latest evolution of our business has been shaped by the evolving needs of our community, and sets us up to provide the right research, guidance, education and communities to enable our customers to accelerate their data-related projects and careers in this fast-changing world."
The most visible part of this release is the new TDWI website. Located at http://tdwi.org, the new site is designed to give data professionals on-demand access to TDWI research, best practices, educational events, online learning, and Upside online magazine. TDWI customers can now get the content they need to learn about a topical area, as well as expert guidance and independent research quickly and easily. "Our team of researchers and instructors are unmatched in the industry, and our commitment to independent, vendor-neutral guidance and training extends across all of our original content. This new site makes it easier for users to find the information they need and apply it their projects faster than ever," said Berberich.
Also unveiled this week are a set of broad improvements to the TDWI Member program. The program improvements expand on the existing set of exclusive member content from TDWI analysts with a new member community and enhanced benefits. New benefits include:

Three membership tiers: Community, Premium, and Executive
A robust new online member community featuring a directory of TDWI members, discussion boards, on-demand access to all TDWI members-only research and content, and more
Monthly Ask the Experts Events
Expanded training credits and discounts on events and online learning
Complimentary job postings on TDWI's new job board
Access to the TDWI video library of educational event sessions
Advisory calls with TDWI Analysts
A complimentary annual educational and networking event for TDWI executive members
A full list of the benefits and features can be found at https://tdwi.org/pages/membership/tdwi-member-benefits-in-depth.aspx.
Finally, registration is now open for all 2017 TDWI Events. Building on the record-breaking attendance in 2016, TDWI is expanding the event roster for 2017. Three different event types are available in 2017, including:
TDWI's flagship Conference (Las Vegas, NV, Chicago, IL, Anaheim, CA, and Orlando, FL)
Leadership Summit (formerly Exec Summit), co-located with TDWI conferences in Las Vegas, Chicago, Anaheim, and Orlando
Accelerate (located in Boston, MA and Seattle/Bellevue, WA)
Dates and pricing for all 2017 TDWI Events is online at https://tdwi.org/calendar/event-calendar.aspx.
About TDWI
For more than 20 years, TDWI has been raising the intelligence of data leaders and their teams with a comprehensive portfolio of business and technical education and research designed to help them acquire the knowledge and skills they need, when and where they need them. TDWI's in-depth, best-practices-based knowledge can be quickly applied to develop world-class talent across an organization's business and IT functions to enhance analytical, data-driven decision making and performance. TDWI offers conferences as well as topical seminars, onsite education, online learning, membership, certification, live webinars, resourceful publications, industry news, and in-depth research. See tdwi.org or follow us on Twitter @TDWI.
About 1105 Media
1105 Media, Inc., is a leading provider of integrated information and media in targeted business-to-business markets, including specialized sectors of the information technology community; industrial health, safety, and compliance; security; environmental protection; and home healthcare. 1105's offerings span print and online magazines, journals, and newsletters; seminars, conferences, and trade shows; training courseware; and Web-based services. 1105 Media is based in Chatsworth, California, with offices throughout the United States.
###
Media Inquiries:
Contact Matt Carter, TDWI VP of Marketing: mcarter@tdwi.org, 425.301.9568.