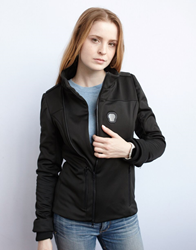 With the Captr Jacket, you have an affordable and convenient new way to capture your life, allowing you to stream, record and share all of your greatest memories hands-free with the one device you always have...your smartphone.
New York (PRWEB) October 06, 2016
The Captr Smartphone Jacket, the jacket that turns any smartphone into a body camera instantly, is now available on Kickstarter.
Captr Co-founders Hesam Meshkat, Mahsa Motlagh and Erfan Ahmadi created the Captr Jacket so smartphone users can skip purchasing expensive action cameras and the bulky accessories and capture their experiences using their smartphones securely mounted in a water-resistant pocket.
Beyond its hands-free video capabilities, Captr CEO Hesam Meshkat says the Captr Jacket will let people harness the power of today's smartphones, which already have incredible cameras built-in and are always handy, to capture exciting moments like never before. The Captr Jacket is available in Activewear and Insulated Bomber Styles and designed for iPhones and Android smartphones.
The pocket is fully water-resistant with a scratch and lint resistant eyepiece window to provide a clear and untarnished view for recording. Corresponding smartwatches can also be used to manage apps including cameras, video cameras, Facetime/Video Chats and Flashlights for nighttime emergency situations.
"Also, many ideal recording opportunities are missed due to an uncharged device, so having the charging capability embedded in the jacket reduces the risk of missing something important," Meshkat said. "With the Captr Jacket, you can now effortlessly vlog or use other live broadcasting apps such as Facebook Live without interrupting your activity to record."
Each Captr jacket comes with a custom smartphone case for perfectly mounting different smartphones inside the jacket pocket for hands-free, secure, video recording. The case aligns the smartphone camera lens so that it's flush with the smartphone eyepiece window in the front of the jacket and locked into place.
Thoughtfully designed, the Captr Bomber Jacket is water-resistant and the Activewear Jacket is anti-microbial. Both jackets feature the Patent-Pending Smartphone Pocket, Eyepiece and custom smartphone case. The Gorilla Glass eyepiece provides clear visibility and extra durability that's also scratch and lint-resistant. The Captr Jacket is machine-washable for convenient cleaning.
Captr is ideal for every smartphone owner who likes to record their experiences. Whether people are interested in recording their travels, family events, extreme sports adventures or training exercises, Meshkat says the Captr Jacket will be "a person's most valued accessory."
"With the Captr Jacket, you have an affordable and convenient new way to capture your life and all the special moments that you don't want to miss," Meshkat said. "It allows you to stream, record and share all of your greatest memories hands-free with the one device that you always have…your smartphone."
Captr is available at a special, discounted early bird price during its crowdfunding campaign. For more information, and to pre-order Captr visit: https://www.kickstarter.com/projects/954128052/worlds-best-smartphone-jacket-record-and-stream-wi