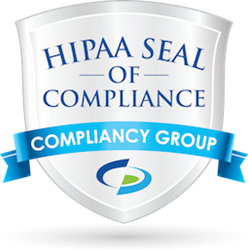 We see pharmacies as a tremendously underserved segment of the health care industry when it comes to HIPAA compliance
Greenlawn, NY (PRWEB) October 04, 2016
Compliancy Group is proud to announce their new industry focus on providing their widely-recognized HIPAA compliance solution to independent and retail pharmacies across the country.
Compliancy Group's web-based compliance solution, The Guard, is uniquely equipped to address the full spectrum of HIPAA regulatory requirements for pharmacies as mandated by the Department of Health and Human Services (HHS) Office for Civil Rights (OCR).
Pharmacies face constant day-to-day challenges to the HIPAA Privacy Rule due to the sheer volume of protected health information (PHI) that they regularly process. With a history of stringent enforcement against pharmacies for privacy violations and new OCR investigations leading to massive fines, addressing HIPAA compliance for pharmacies is becoming more important now than ever before.
"We see pharmacies as a tremendously underserved segment of the health care industry when it comes to HIPAA compliance," says Marc Haskelson, President and CEO of Compliancy Group. "With patients becoming more and more knowledgeable about HIPAA regulation, pharmacists face significant risk of a small privacy violation being reported and turning into a full OCR investigation. Our HIPAA compliance solution addresses the full extent of HIPAA regulation, including self-audits, remediation plans, policies and procedures, employee training, business associate management, and incident management. Our goal is to simplify compliance for Pharmacies across the country to help mitigate the growing risk of breaches and fines."
Click here to learn more about HIPAA compliance for pharmacies and how Compliancy Group can help simplify your compliance today.
Compliancy Group allows anyone to simplify the growing challenges of HIPAA compliance, whether they are an experienced health care professional with compliance expertise or a front desk manager without any formal training. The Guard is our simple, cost-effective, web-based solution that can help any organization regulate and monitor all aspects of their HIPAA compliance throughout their entire practice. With Compliancy Group, you'll be guided by our team of expert Compliance Coaches to Achieve, Illustrate, and Maintain compliance with confidence under the full spectrum of HIPAA, HITECH, and Omnibus regulations. Visit http://www.compliancy-group.com or contact us at 855.854.4722 (855 85 HIPAA) to learn how simple compliance can be.