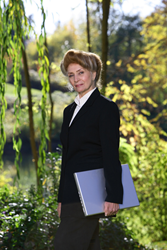 Grants Pass, OR (PRWEB) October 05, 2016
Sharon Kleyne, water advocate and the founder of Bio-Logic Aqua® Research Water Life Science®, recently interviewed Chief Climatologist L. DeWayne Cecil, Ph.D. about new developments in climatology and water's role in climate change. In preparation for an upcoming radio program on Kleyne's show, The Sharon Kleyne Hour Power of Water, Kleyne asked Cecil to explain the job of a climatologist.
"I'm really a Paleo-climatologist," Cecil said. "I study tree rings, lake sediment and past climate changes to draw conclusions about current trends." Cecil, who formerly worked at NASA in satellite imaging to view climatic trends, and with the U.S. Geological Survey, now serves as Western Region Climate Services Director for the NOAA-NCDC (http://www.noaa.gov and http://www.climate.gov).
Referencing her repeated calls on government and schools to "amp up" education about evaporation and water vapor, Sharon Kleyne asked Cecil about the role of education in his current work. "Much of our effort now is concentrated on education," said Cecil. "The intention is to involve citizens and stakeholders in developing solutions that are called for in specific areas," Cecil explained. "I think of this as being proactive as we deal with drought, flooding, crop issues and many other situations." He added that the NOAA-NCDC is making steady use of town hall meetings and symposiums across all six regions.
Sharon Kleyne was also curious about Cecil's view of water and its importance to weather and the climate. "Water is extremely important in a balanced atmosphere," said Cecil. "Especially in the atmosphere, the climate is strongly affected by water." Kleyne added that she didn't think people were comprehending that fact, and Cecil agreed, pointing out that his team's education efforts included teaching people how ground water evaporates and rises, becoming a gas that not only gives life to the air we breathe, but also changes weather patterns and the climate.
"We do more damage to our already stressed out water supplies and resources if we don't learn to pay more attention to them," Kleyne said. "People should know that evaporation is the process by which water is turned into a gas—a vapor—that enters the atmosphere and the air we breathe." "Without the water vapor in the air we breathe," she added, which is present thanks to evaporation, we couldn't get enough oxygen to stay alive." Cecil added that our weather and climate would experience dramatic changes, some of them life-threatening. "We'll all be sorry," Sharon Kleyne said, "if we don't do a much better job educating the general public about evaporation, the water mist cycle and the climate."
Cecil concluded by recalling one of the earliest events that inspired him to become a scientist. "It was the photographs taken of the earth and space by the Apollo astronauts," he said. "There was that beautiful blue marble," Cecil said, "and I thought, 'it really is a water planet!'"