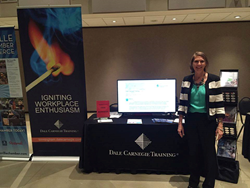 "In this interactive workshop, we will learn to use the value we provide our customers to become even more effective in cold calling."
Birmingham, Alabama (PRWEB) October 05, 2016
Dale Carnegie Training of Central and Northern Alabama has joined forces with the Birmingham Business Journal to present a new workshop for Sales Professionals, Precision Cold Calling, which will take place on Tuesday, October 18, 2016.
Top salespeople everywhere have found ways to make cold calling productive and yes, even fun! This new half-day seminar will show individuals how to make strong calls that create appointments and lead to new business. It will help sales professionals improve their hit ratios so that they will no longer suffer the dejection caused by a steady stream of no's.
During this workshop, attendees will write and deliver a 45-second cold call presentation. Each individual will also learn how to maneuver the modern sales obstacle course - gatekeepers, e-mail, and voice mail - that prevents them from getting to the prospect.
Participants will learn How to:
-Understand what buyers want and how to get them excited
-Ensure that prospects will want to take your call and ask power questions
-Develop creative ways to position your product or service
-Write and deliver a 45-second cold call presentation
-Use proven strategies to get past the gatekeeper
-Learn voice mail messages that create callbacks
-Understand how cold-call ratios work
-Secure meetings with strong email follow-up
-You will leave with practices you can put in place immediately.
Nancy Covert, president of Dale Carnegie Training of Central and Northern Alabama, who will be delivering the workshop, had this to say,
"Cold calling has never been tougher. As soon as the prospect figures out you're a sales person, the immediate responses are 'no budget,' 'we're in a purchasing freeze', or 'call me in six months if things are any better.'
 
But we all know that there is money available to buy if a prospect sees real value in the product or service offered.  The challenge is to get your value proposition in front of the prospect in such a compelling way that you turn off the automatic 'no' response.
 
In this interactive workshop, we will learn to use the value we provide our customers to become even more effective in cold calling."
If you're interested in attending this event or would like more information, please visit the BBJ website or call 205-444-5011.
About Dale Carnegie Training
Dale Carnegie Training has been helping individuals and organizations achieve their goals for 103 years. We are an action company. We focus on learning through doing, and apply time-tested techniques for real-world and real-life results. If you'd like to learn more about our programs, please visit http://www.birmingham.dalecarnegie.com or call 205-444-5011.