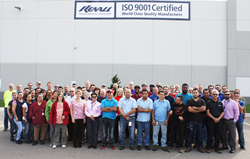 Our team has worked very diligently to meet those stringent standards to assure repeatability and consistency of quality practices
Kenosha, Wisconsin (PRWEB) October 05, 2016
Kenall, a designer and manufacturer of solid-state lighting for challenging environments, today celebrated its recent ISO 9001:2008 certification by thanking the team that made it happen: it turns out, it's quite large. Nearly a quarter of the company's employees had roles in achieving the certification.
"I am very pleased with the outcome. Our team has worked very diligently to meet those stringent standards to assure repeatability and consistency of quality practices. Kenall continues to lead the transition of the industry to solid state lighting and controls, where product quality and reliability are increasingly important. The company name will continue to be synonymous with durable, high quality solutions for challenging lighting applications," said Kenall COO and President Pat Marry.
ISO 9001:2008 specifies requirements for a quality management system where an organization

Must demonstrate its ability to consistently provide product that meets customer and applicable statutory and regulatory requirements
Enhances customer satisfaction through the effective application of that system, including processes for continual improvement of the system and the assurance of conformity to customer and applicable statutory and regulatory requirements
About Kenall Manufacturing
Kenall Manufacturing was founded in Chicago, Illinois in 1963 and has built a reputation for durable lighting solutions of superior quality and exceptional value. Kenall moved to Kenosha in December 2014 after completing construction on a vertically integrated 354,000-square-foot company headquarters and manufacturing plant. Today, the company focuses on the transportation, high-abuse, correctional, healthcare, sealed enclosure and food processing markets. Kenall luminaires are designed and manufactured in the USA and meet the guidelines established under the Buy American Act and the North American Free Trade Agreement. For additional information, visit http://www.kenall.com.