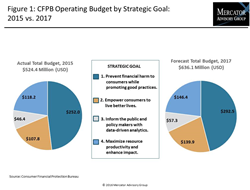 Credit card issuers must look at the risk and revenue metrics in good times and bad, and make real business decisions about whether they are willing to accept the margins that will come from tighter control.
Boston, MA (PRWEB) October 06, 2016
Headlines of unfair and deceptive credit card practices make it hard to argue with the new direction of regulators who expanded their purview from safety and soundness to fairness and clarity. Since the Consumer Financial Protection Bureau was launched in 2011, more than 10% of U.S. households have received some sort of retribution for unfair and deceptive lending practices. Legal penalties now exceed $200 million and retribution exceeds $1 billion.
Mercator Advisory Group's latest research note, Prepare for the Regulatory Trend Focused on Fairness and Clarity in Financial Services, discusses the need for a new business model in the credit card industry that responds to the new regulatory trend exemplified by recent actions of the U.S. Consumer Financial Protection Bureau by bringing together a focused management infrastructure with stronger analytics, more focused investigating staff, and a well thought out mission for education, fairness, and transparency.
Financial indications to the card industry can be seen in the Return on Assets metric, which fell steadily between 2013 and 2015; Mercator Advisory Group expects the decline to continue as card issuers conform to new standards. A long-term concern of the issuers is that an economic downturn might bring excessive risk to the credit card industry and entirely negate profits, as happened during the recent recession. In 2009, the U.S. credit card market, the largest and most established card market in the world, produced net losses for most top issuers. The new credit card business model requires issuers to be more effective in their credit policies and fraud controls as well as to create better efficiencies on their operating expense lines.
"It is hard to complain about regulatory burdens when the CFPB keeps bringing up valid business issues that center on integrity," comments Brian Riley, Director, Credit Advisory Services at Mercator Advisory Group, the author of the research note. He adds: "Credit card issuers must look at the risk and revenue metrics in good times and bad, and make real business decisions about whether they are willing to accept the margins that will come from tighter control." Brian Riley is available for comment.
Highlights of the research note include:

Discussion on the regulatory shift to now cover consumer fairness and clarity
Operating budget and staffing configuration for the Consumer Finance Protection Bureau
Summary of recent CFPB actions
Strategic opportunities for card networks and credit card issuers
This document contains 10 pages and 6 exhibits.
Companies mentioned in this research note include: American Express, Capital One, Chase, Citi, Discover First National Bank of Omaha, and Wells Fargo Bank NA.
Members of Mercator Advisory Group's Credit Advisory Service have access to these reports as well as the upcoming research for the year ahead, presentations, analyst access, and other membership benefits.
For more information and media inquiries, please call Mercator Advisory Group's main line: (781) 419-1700, or send email to media(at)mercatoradvisorygroup(dot)com.
For free industry news, opinions, research, company information and more, visit us at http://www.PaymentsJournal.com.
Follow us on Twitter @ http://twitter.com/MercatorAdvisor.
About Mercator Advisory Group
Mercator Advisory Group is the leading independent research and advisory services firm exclusively focused on the payments and banking industries. We deliver pragmatic and timely research and advice designed to help our clients uncover the most lucrative opportunities to maximize revenue growth and contain costs. Our clients range from the world's largest payment issuers, acquirers, processors, merchants and associations to leading technology providers and investors. Mercator Advisory Group is also the publisher of the online payments and banking news and information portal PaymentsJournal.com.