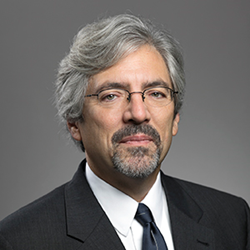 Tom's program management experience for transit-related architecture is a highly valued resource our clients need as they move forward to modernize the region's transit network to accommodate the demands of today
NEW YORK (PRWEB) October 06, 2016
Thomas Grassi, AIA, PMP, has joined HNTB Corporation as senior project manager for infrastructure and transportation architecture. He is based in the firm's Empire State Building offices in New York City.
Grassi comes to HNTB from the Port Authority of New York and New Jersey where his efforts included leading the reconstruction and restoration of the World Trade Center's transit facilities immediately following 9/11. He brings more than 30 years of experience in managing the planning, design and construction of some of New York City's most architecturally significant and high profile programs, including the iconic World Trade Center Transportation Hub. He also led the planning and design of the AirTrain systems at New York City's John F. Kennedy International Airport and Newark Liberty International Airport.
"Tom's program management experience for transit-related architecture is a highly valued resource our clients need as they move forward to modernize the region's transit network to accommodate the demands of today as well as help plan and build for future growth," said Tom Spearing, HNTB's New York office leader and senior vice president.
At HNTB, Grassi is working on multiple high-profile transit and intermodal station planning and design projects with a focus on the firm's transit clients in the New York region as well as pursuits throughout the country.
A graduate of the Pratt Institute with a Bachelor of Architecture degree, Grassi is a registered architect in New York and New Jersey, and a certified project management professional. He serves as an adjunct professor of construction management at New York University's Schack Institute of Real Estate, and as an adjunct professor in urban placemaking and management at the Pratt Institute's School of Architecture.
Grassi is a member of the American Institute of Architects, recipient of numerous awards including the AIA's "Architects of Healing" Presidential Citation for rebuilding work at the World Trade Center, and author of many professional articles.
HNTB's architecture practice is involved in the design and construction of many of the nation's most visible rail- and transit-related programs including the Massachusetts Bay Transportation Authority's historic South Station expansion, the Newark Liberty International Airport's AirTrain replacement for the Port Authority of New York and New Jersey, and reconstruction of Chicago Transit Authority's Wilson Station.
About HNTB
HNTB Corporation is an employee-owned infrastructure solutions firm serving public and private owners and contractors. With more than a century of service, including more than 90 years in New York, HNTB understands the life cycle of infrastructure and addresses clients' most complex technical, financial and operational challenges. HNTB's New York offices currently employ more than 400 full-time professionals in nine tri-state locations. Professionals nationwide deliver a full range of infrastructure-related services, including award-winning planning, design, program management and construction management. For more information, visit http://www.hntb.com.