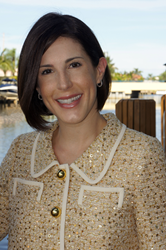 Marie brings a new level of excitement to the product development team.
Pasadena, Texas (PRWEB) October 07, 2016
Marie Knox has been named Director of Product Development at CSI. "Marie is well suited to lead the Product Development group at CSI, shares Mark Boyd, President. She brings four years of experience at CSI as Technical Director for the Pest Control Sales Division and was a key leader in the development and launch of Nimitz Pro G (fluensulfone) for the Quali-Pro brand in Turf. The success of FUSE and TEKKO PRO in the Pest Control Market can be attributed to her leadership role in their development and launches. The launch of Nimitz Pro G continues to impress the professional turfgrass industry. The superb training programs she has offered both internally and externally have ensured the continued success of the CSI sales teams as well as that of end users."
Knox has 17 years of experience in Product Development, Sales and Marketing working for BASF, FMC and DuPont earlier in her career. Knox holds a M.S. in Nematology and Turf along with a B.S. in Entomology and Business. Her experience in multiple markets has given her a firm foundation for her escalating career.
Her new role began on Oct 1st 2016. Her team will include formulation chemists, a product development coordinator, as well as the technical services group. In addition, she will direct the work of various consultants for CSI.
"New products have fueled the growth of CSI for many years and I am confident that Marie will bring new ideas and coordination into the company that will help continue this growth as well as strengthen our PMP and Distributor partnerships. Marie brings a new level of excitement to the product development team. The future is indeed bright at CSI!" states Boyd.
About Control Solutions Inc. (CSI)
Control Solutions began as a family owned business in 1958 and is built on to the commitment of serving the professional pest control and retail markets. CSI has added product lines for the Industrial, Lawn and Garden, Turf, Animal Health and Biocide markets, and is working with over 80 distributors serving those markets. Control Solutions maintains relationships with chemical manufacturers worldwide and provides a ready supply of products in distribution warehouses across the U.S. The partnership with ADAMA/Makhteshim-Agan Industries multiplies Control Solutions' agility in continuously adding new products to meet the needs of professionals and homeowners. "The one constant since the beginning in 1958 is our mission focus: to seek out and distribute effective and economical solutions for our customers," stated Mark Boyd, President and founder of CSI. For more information, visit us at http://www.controlsolutionsinc.com.
About ADAMA formerly Makhteshim-Agan Industries
ADAMA Agricultural Solutions Ltd. is a leading global manufacturer and distributor worldwide of crop protection solutions. The Company supplies efficient solutions to farmers across the full farming value-chain, including crop-protection, novel agricultural technologies, and complementary non-crop businesses. In 2013, the Company's revenues were over $3 billion, and it is ranked seventh in the world in the overall agrochemicals industry. The Company is characterized by its heritage of innovation, farmer-centric approach to product development, and its observance of strict standards of environmental protection and quality control. For more information, visit us at http://www.adama.com.