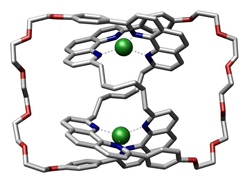 "Park AFM uniquely excels in imaging and characterizing smart materials and nano-manipulation for various applications including nanomachines."
Santa Clara, CA (PRWEB) October 07, 2016
Park Systems congratulates Jean-Pierre Sauvage, James Fraser Stoddart and Bernard Feringa on being awarded the 2016 Nobel Prize in chemistry for their work on molecular machines. Their extraordinary work on molecular machines is expected to lead to the development of new nanomaterials, operating sensors, creating energy-storage mechanisms and much more. This award also highlights the need for advanced analytical tools to understand and manipulate materials at the atomic and molecular level.
"Park Atomic Force Microscopes or AFMs advanced surface science and topography can observe and characterize these molecules, facilitating further discoveries in supramolecular chemistry," comments Keibock Lee, President of Park Systems. "Park AFM uniquely excels in imaging and characterizing smart materials and nano-manipulation for various applications including nanomachines."
Sauvage, Stoddart, Feringa and other researchers have built about five dozen varieties of molecular machines including knots, switches, shuttles, rotors, pumps and chains, all at chemistry's smallest scale. Too tiny to see with naked eye, the supramolecular particles are 1,000 times less than the width of a human hair. AFM is one of the few methods available to directly visualize and manipulate these nano-objects by investigating topology and field response in flat surfaces and using specific cantilever-tip to molecule interactions.
"AFM techniques based on contact and non-contact modes including scanning tunneling microscopy (STM) as well as field-responsive methods have enabled quantitative and visualized experiments to correlate with the dynamics of macromolecular and supramolecular chemistry," commented Dr. Rigoberto Advincula, who was recently awarded a $300,000 grant from the National Science Foundation to develop methods for producing knots at an industrial level. Advincula's research was lauded early by Noble Prize recipient Jean-Pierre Sauvage, who congratulated him saying "he looks forward to reading more papers from this group in this fascinating research field." The researchers at Case Western will collaborate with polymer physicists, theorists, and rheologists to develop various knotted macromolecules with controlled entanglements with high yields and high molecular weight that can produce different physical and chemical properties in plastics, coatings, rubber, composites and more.
"Park AFM and users will be an important tool and community going forward in designing better analytical and characterization methods for investigating supramolecular chemistry and templating for organic molecules and nanoobjects," commented Dr. Advincula, who is giving an upcoming webinar titled Supramolecular Chemistry, NanoMachines and AFM, hosted by Park Systems. "AFM can be used as a tool for directly visualizing supramolecular topologies with adequate surface fixation methods on atomically flat surfaces and the proper tip to nano-object interaction." The webinar is schedule for Nov. 9 and is recommended for all researchers studying smart materials including supramolecular chemistry and nanomachines. Park Atomic Force Microscopy (AFM) state-of-the art microscopy equipment provides an important method for probing and harnessing the potential of supramolecular chemistry and other rapidly advancing nano scientific fields of study. The added value include their revolutionary and patented operating system, SmartScan, and many other advanced features such as PinPoint Nanomechanical, making it an essential tool for advanced research into interlocked molecules.
To attend our webinar please register at: https://attendee.gotowebinar.com/register/8025694189710243076
About Park Systems:
Park Systems is a world-leading manufacturer of atomic force microscopy (AFM) systems with a complete range of products for researchers and industry engineers in chemistry, materials, physics, and life sciences, semiconductor, and data storage industries. Park's products are used by over a thousand organizations worldwide and provide the highest data accuracy at nanoscale resolution, superior productivity, and lowest operating cost thanks to its unique technology and innovative engineering. For its efforts to advance imaging methodologies and enhance the user experiences, Park has been awarded the Frost & Sullivan 2016 Global Enabling Technology Leadership Award. Park Systems, Inc. is headquartered in Santa Clara, California with its global manufacturing and R&D headquarters in Korea. Park's products are sold and supported worldwide with regional headquarters in the US, Korea, Japan, and Singapore, and distribution partners throughout Europe, Asia, and the Americas. Please visit http://www.parkafm.com or email inquiry(at)parkafm(dot)com.
About Rigoberto Advincula:
Rigoberto Advincula is Professor at the Department of Macromolecular Science and Engineering, Case Western Reserve University in Cleveland, Ohio, USA. He is a Fellow of the American Chemical Society (ACS), Fellow of the Polymer Science and Engineering Division (ACS), Fellow of the Polymer Chemistry Division (ACS). He recently received the distinguished Herman Mark Scholar Award in 2013. He is Editor of Reactive and Functional Polymers and Associate Editor of Polymer Reviews. His group does research in polymer materials, nanocomposites, colloidal science, hybrid materials, and ultrathin films towards applications from smart coatings to biomedical devices.