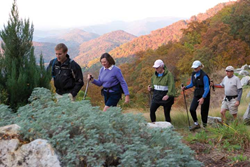 The Cliffs communities in the Blue Ridge Mountains of the western Carolinas are a wonderful place for relocating retirees and second home buyers looking for a strong sense of community, coupled with access to a line-up of abundant recreational activities.
Libertyville, IL (PRWEB) October 11, 2016
Marian Schaffer, Principal and Founder of Southeast Discovery, a real estate consulting firm specializing in guiding Baby Boomers with their real estate needs in the niche markets of retirement relocation and second homes in the Southeast region, recently shared 10 reasons to consider The Cliffs Communities for retirement, relocation or second home purchase. The Cliffs Communities are seven master-planned luxury mountain and lake communities located in the Blue Ridge Mountains of the western Carolinas.
"Located in one of the most desirable regions of the U.S., the Carolina mountains, the Cliffs communities are a wonderful place for relocating retirees and second home buyers who are looking for a strong sense of community coupled with access to a line-up of outdoor and other activities ranging from A to Z," said Schaffer.
According to Schaffer, these ten qualities make The Cliffs Communities ideal for those seeking abundant amenities, an active lifestyle, and natural beauty in the mountain region of the western Carolinas:
#1: When you own at one community, you have access to all seven communities
"One of the unique benefits of The Cliffs is that it's made up of seven master-planned communities in the Western Carolina corridor, and ownership at one of the communities gives you access to all seven," said Schaffer. "Near Asheville, NC, there's Cliffs Walnut Cove; three mountain communities are located north of Greenville, SC – Cliffs Glassy, Cliffs Valley and Cliffs Mountain Park – and three lake communities are on beautiful Lake Keowee – Cliffs Vineyards, Cliffs Falls and Cliffs Springs. That's seven clubs, seven golf courses and seven communities, with all their benefits, amenities, events and activities, for the price of ownership at one."
#2: There are different levels of membership available, so residents can tailor amenities based on their interests
"The Cliffs Communities offers five levels of membership so that home owners can enjoy the amenities they prefer, and not have to pay for those they don't," said Schaffer. Levels of membership include golf membership, which features access to The Cliffs' collection of seven championship golf courses; sports membership, which offers access to full use of The Cliffs' wellness centers, clubhouses, dining and marina facilities, and outdoor activity areas; and active membership, which allows full use of The Cliffs' wellness centers, beach club, tennis courts, clubhouses, dining and marina facilities, along with full access to outdoor activity areas, including hiking and walking trails, equestrian center, private parks and pavilions. Corporate memberships and national memberships are also available.
#3: Abundant Amenities
Each of the seven Cliffs communities offers a robust array of amenities in addition to golf courses," said Schaffer. "There are clubhouses, restaurants on site, fitness centers, spas, walking and hiking trails, marinas, dog parks, community gardens, an equestrian center, indoor and outdoor pools, boating and water sports, cycling, gated entrances, and social activities from A to Z."
#4: Ideal location in the Western Carolinas
"One of the most compelling attributes of the Cliffs Communities is its location," said Schaffer. "This corridor of the U.S. has become a very desirable place to live; each community within The Cliffs is strategically located near vibrant and beloved towns with many modern conveniences. There's Asheville, NC, with its excellent restaurants and microbreweries, art scene and top-notch medical care; the contemporary Southern city of Greenville, SC with its one-of-a-kind shopping and dining; and some of the best lake and mountain views you'll find in the entire U.S. at picturesque Lake Keowee."
#5: College campuses nearby
For those interested in continuing education courses, Osher Lifelong Living Institutes' (OLLI) courses are offered at Furman University near three of the Cliffs South Carolina mountain communities (Cliffs Valley, Glassy and Mountain Park); the spirited Clemson University's OLLI program is just minutes from the Cliffs Lake Keowee properties.
#6: Access to high quality health care
"Geographical proximity to top-notch medical care is another desirable attribute of The Cliffs communities," said Schaffer. Asheville, NC's well-regarded Mission Health System, the state's sixth-largest health system, operates six hospitals, numerous outpatient and surgery centers, and the region's only dedicated Level II trauma center. In Greenville, SC, the 710-bed Greenville Memorial Hospital, part of the Greenville Health System (GHS), is a regional referral center for the diagnosis and treatment of conditions related to heart, cancer, women's services, reproductive endocrinology and more. GHS also includes the Children's Hospital and Women's Hospital.
#7: Amenities outside of The Cliffs
"In addition to the abundance of amenities inside The Cliffs, there are many wonderful things residents can see and do year-round in the Western Carolinas area," said Schaffer. These include The Swamp Rabbit Trail System, a 21-mile multi-use greenway system that runs along the Reedy River connecting schools, parks, and local businesses; Dupont State Recreational Forest outside Asheville, with its abundant waterfalls and 86 miles of trails; Flat Rock Playhouse, a professional equity theatre with two locations in Flat Rock and Hendersonville, NC; Tryon International Equestrian Center, a year-round venue located in Mill Spring, NC; and Chimney Rock State Park, located in Western North Carolina.
#8: Mild four season climate
The mild climate in the Western Carolinas is another compelling reason to choose The Cliffs. "Fall, winter, spring and summer exist here, but without the extremes," said Schaffer. "The higher elevation means lower humidity, but the elevation is not so high that there's lots of snow, which means that a variety of outdoor activities can be enjoyed year-round."
#9: Airport Access
Airports in the area include Asheville Regional Airport, located within minutes of Cliffs Walnut Cove, Cliffs Valley, Cliffs Mountain Park and Cliffs Glassy; Greenville/Spartanburg International Airport, located approximately 30 minutes from The Cliffs' South Carolina mountain communities, and 1 hour and 20 minutes from The Cliffs' Lake Keowee communities. Charlotte Douglas International Airport is located 90 minutes from both the Asheville, NC and Greenville, SC area.
#10: Quality of life
"For those recently retired and looking to get their life and health back, the quality of life at The Cliffs and in the Western Carolinas area is unparalleled," said Schaffer. "You can enjoy clean mountain air in a climate that allows you to be outdoors doing what you love most, year-round, in a beautiful setting, no matter which Cliffs community you choose. There are more than 4000 community events a year, forests, lakes, and mountains right at your fingertips, and an abundant selection of sports and activities."
If you're considering relocating to the Southeast but don't know how or where to start your search, we can help. We've been working with clients to find the right area and community to call home in the Southeast for over a decade. Feel free to complete our complimentary online questionnaire here to get feedback on the best areas and specific communities that may be just right for you.
About Southeast Discovery
Since 2004, Southeast Discovery has been a trusted resource for candid information and insight on communities, developments, and general real estate in the Southeast. Through its highly-ranked web portal, newsletter and blog and its one-on-one work with clients, Southeast Discovery helps buyers actively looking for a retirement or second home in the Southeast navigate the process of identifying the right area and community for their needs. To learn more, visit http://www.southeastdiscovery.com/