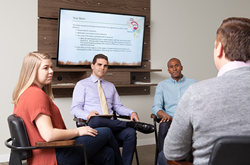 Addiction medications have been proven to be truly effective for a particular segment of the population addicted to opiates.
Canaan, CT (PRWEB) October 12, 2016
According to the Centers for Disease Control and Prevention, nearly 130 people die each day from drug overdoses, and more than three out of five of these deaths involve an opioid. With so many lives at risk, Mountainside has incorporated another innovative and proven addiction treatment into its portfolio of evidence-based therapies: Medication Assisted Treatment ("MAT").
"At Mountainside, we are committed to individualized treatment and strive to provide everyone in our care access to therapies that best address their needs. Addiction medications have been proven to be truly effective for a particular segment of the population addicted to opiates. Our new MAT program will enable us to markedly improve outcomes for those clients," said Medical Director Dr. Randall Dwenger.
Offered through its Outpatient Services, Mountainside's MAT program prescribes buprenorphine/naloxone (Suboxone®) to help treat opioid dependence and naltrexone (Vivitrol®) to treat alcohol and opioid dependence. The medicines are offered in combination with clinical and psychological support — key building blocks for a sustainable recovery. Clients participate in the MAT program for six months, with the goal of tapering off of the medicines within that time frame.
Buprenorphine, a "partial agonist," binds to opiate receptors to block cravings and diminish withdrawal symptoms, while naloxone is incorporated to prevent misuse of the medication. Naltrexone, an "antagonist" drug, attaches to opioid receptors in the brain, with no euphoric effect, and inhibits any possible "high" that comes from taking opioids.
Both of these medications help reduce cravings in most opioid-dependent individuals, stabilize their brain chemistry, and reduce withdrawal symptoms. Ultimately, the biggest benefit is that these addiction medicines enable clients to better concentrate on maintaining their sobriety, avoiding relapse, and improving their functioning in other areas of their lives.
"Addiction is a chronic disease with a risk for relapse, similar to people with chronic diseases like heart disease or diabetes. Certain people struggling with addiction can greatly benefit from the assistance of addiction medicines to help them achieve a sober and healthy lifestyle," said Dwenger.
ABOUT MOUNTAINSIDE DRUG REHAB AND ALCOHOL TREATMENT CENTER
Mountainside is nationally recognized for the effectiveness of its drug and alcohol addiction treatment programs. Our Integrative Care Model provides a comprehensive set of treatment and care offerings coordinated by a multidisciplinary treatment team to best fit the unique needs and interests of each client. We are lauded for our ability to partner with each client and the client's family and healthcare professionals in developing and executing individualized treatment plans that promote long-term sobriety.