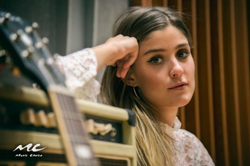 New York, NY (PRWEB) October 12, 2016
Music Choice, the #1 music provider on television, will feature top level folders On Demand this October highlighting the best music videos and exclusive artist content around! Brand new content available for free nationally On Demand this October include Halloween, PRIMED: LÉON, Country Hits and Behind The Lines: Lady Gaga.
Highlights for October Include:

o Halloween - Tune in to hear the most popular Halloween tunes with a few modern hits including: "Highway to Hell" by AC/DC; "Ghostbusters" by Ray Parker Jr.; "Thriller" by Michael Jackson; "Somebody's Watching Me" by Rockwell ; "Haunted" by Beyoncé; "Disturbia" by Rihanna; "E.T." by Katy Perry and more!
Go To: Music Choice On Demand>All Playlists>Halloween
Dates: Now through October 31, 2016
o PRIMED: LÉON
A Music Choice Original. LÉON is next on deck to blow up in music! Get our latest Primed artist's story here.
Go To: Music Choice On Demand>Shows>Leon:Primed
Dates: October 14 through October 30, 2016
o This folder features music videos from nominees of "The 50th Annual CMA Awards" offering exclusive original content and playlists from nominees including Florida Georgia Line, Maren Morris and many more!! The category will also include the 50 Greatest Country Videos from Luke Bryan, Faith Hill, George Strait, Shania Twain, Carrie Underwood and more!!
Go To: Music Choice On Demand>Country Hits
Dates: October 17 through November 2, 2016
o Behind The Lines: Lady Gaga
Lady Gaga is here! She explains the rage behind "Perfect Illusion" and its stripped-down video in the desert.
Go To: Music Choice On Demand>Trending Now>BTL:LadyGaga
Dates: October 24 through October 30, 2016
For more information about Music Choice log onto http://musicchoice.com/ or to become part of the Music Choice community join us on Twitter: @MusicChoice or Facebook.
About Music Choice:
Music Choice, the multi-platform video and music network, delivers its music programming to millions of consumers nationwide through their televisions, online and mobile devices. Music Choice programs dozens of uninterrupted music channels; produces originals that feature today's hottest established and emerging artists; offers thousands of music videos; and launched Music Choice Play, the music video, lifestyle and entertainment network for Millennials. Follow us on Twitter: @MusicChoice | Facebook: http://www.facebook.com/MusicChoice