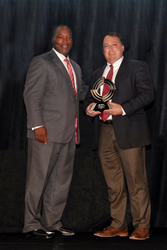 On behalf of the Commission on Economic Inclusion and Greater Cleveland Partnership, I would like to congratulate Gilbane Building Company - EddieTaylor, Co-Chair of the Commission on Economic Inclusion
Providence, RI (PRWEB) October 12, 2016
Leading global construction and facilities-related services firm, Gilbane Building Company was recently recognized by the Greater Cleveland Partnership as the winner of the 2015 Best in Class for Supplier Diversity Award in the large business category. This award is bestowed upon companies who have made diversity and inclusion a priority in all aspects of their business operations. Scott Orr, Vice President for Gilbane, received the award at the Greater Cleveland Partnership's Annual Meeting in Cleveland. The Commission on Economic Inclusion, a program of the Greater Cleveland Partnership, works with Northeast Ohio employers to make diversity a source of economic strength. The goal is to ensure that minority workers and minority businesses have the opportunity to participate in the economic prosperity of the region. Ultimately, the work is fueled by the belief that businesses – and the region – are stronger with greater diversity.
"On behalf of the Commission on Economic Inclusion and Greater Cleveland Partnership, I would like to congratulate Gilbane Building Company for its ongoing commitment to serving and growing our region. Gilbane's diversity and inclusion efforts have resulted in the significant expansion of economic opportunities in our community, but clearly the company's ideals extend well beyond Northeast Ohio." – Eddie Taylor, Co-Chair of the Commission on Economic Inclusion and President, Taylor Oswald, LLC.
"We are honored to have been recognized by the Greater Cleveland Partnership for our efforts in regards to diversity and outreach. As a company, we are committed to our core values; one of which is Caring, and inclusion is an important part of that." says Tom Laird, Executive Vice President of Gilbane Building Company, "We can always do better, but it is great to be recognized for our efforts."
About Gilbane Building Company
Gilbane provides a full slate of construction and facilities-related services, from pre-construction planning and integrated consulting capabilities to comprehensive construction management, close-out and facility management services for clients across various markets. Founded in 1873 and still a privately held, family-owned company, Gilbane has more than 50 office locations around the world and is headquartered in Providence, Rhode Island.