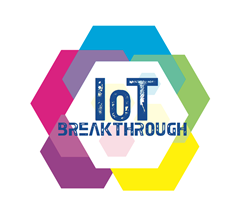 The IoT Breakthrough Awards program is the perfect way for companies to truly break through the crowd and be recognized for their hard work and success
Los Angeles, CA (PRWEB) October 13, 2016
IoT Breakthrough, an independent organization dedicated to helping the best IoT products and companies stand out in the industry, today announced that nominations are extended through November 15 for the IoT Breakthrough Awards program. The awards include categories such as Connected Home and Home Automation, Connected Car and Vehicle Telematics, IoT Security, Wearables, Industrial IoT, M2M, Enterprise IoT and many more.
"There is no questions that the IoT market has experienced explosive growth and is now hitting the consumer and enterprise mainstream," said James Johnson, managing director at IoT Breakthrough. "With this growth it has become increasingly difficult to stand out is the sea of products and companies within the IoT industry, and the IoT Breakthrough Awards program is the perfect way for companies to truly break through the crowd and be recognized for their hard work and success."
All IoT industry professionals, including marketing and PR agencies, may submit nominations for the IoT Innovations Awards by completing the nomination process by the November 15, 2016 deadline using the http://iotbreakthrough.com/submit-award/ page.
The IoT Breakthrough Awards program is devoted to honoring excellence in Internet of Things technologies, services, companies and products. Both business and consumer IoT products are open for nominations in a range of categories. A full list of IoT Breakthrough categories is available at http://iotbreakthrough.com/award-categories/.
Winners will be officially announced prior to the CES 2017 conference, allowing winning companies to showcase the award recognition and stand out during the conference.
Submitted IoT nominations will be judged by an independent panel of experts representing a cross section of the industry, including journalists, analysts and technology executives. Winning products are selected based on a variety of criteria, including most creative and technologically advanced products, services, and platforms.