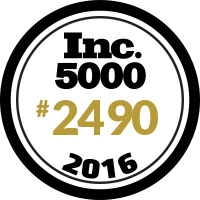 Up to $250,000 and more funding at little or no interest via unsecured financing leveraging business credit cards.
Spring Hill, Florida (PRWEB) October 14, 2016
Fund&Grow announced today that it has been ranked no. 2490 by Inc. Magazine in the Inc. 5000 – an exclusive ranking of the nation's fastest-growing private companies. This is Fund&Grow's first year on the list which represents a view into the essential energy of our nation's economy – America's independent business leaders.
"Fund&Grow is honored to be named to the prestigious Inc. 5000 list," said Fund&Grow CEO, Ari Page. "To be included in the 2016 list, along with rising stars like Square, Dollar Shave Club and Malwarebytes, is a true milestone for our company. We believe that our consistent growth over the years, reaching a 143% three-year growth rate, is due to our flexibility in adapting to changing banking conditions and our commitment to constantly improve the quality and extent of our customer service."
Fund&Grow's Chief Operating Officer, Mike Banks, added, "We owe so much of our growth to our third-party partners who co-market our business credit funding services to their clients. We work hard every single day to earn and maintain their trust, and our current growth curve clearly indicates we are on the right track."
The Inc. 5000 is an expansion of the Inc. 500, which ranks the country's top 5000 fastest-growing private companies. Previous Inc. 5000 honorees include Intuit, Zappos, Under Armour, Microsoft, Jamba Juice, Timberland, Clif Bar, Pandora, Patagonia and Oracle.
Fund&Grow helps small businesses and real estate investors in overcoming financing hurdles by helping them get up to $250,000 and more funding at little or no interest. This is accomplished via unsecured financing leveraging business credit cards. Fund&Grow does all of the legwork, including applying and appealing each application to ensure the maximum amount is granted per lender.
The Company also helps their clients get non-recourse corporate credit – a great way to purchase inventory, equipment, supplies for the office - anything that can be bought from a vendor. Fund&Grow helps businesses obtain as much as $100,000 or more from organizations such as Lowes, Staples, Amazon and many others, as well as companies that provide credit for automobiles and gas, and so on. For more information, view their website or check out their free online webinar at FundAndGrow.com/pr.