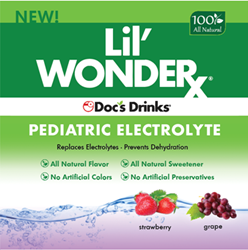 Atlanta, GA (PRWEB) October 13, 2016
The Wondermade Brands® company, makers of Doc's Drinks®, announce their new all-natural pediatric electrolyte product, Lil' Wonder®, debuting in the market this October. Lil' Wonder® is available now in grape and strawberry flavors and soon to be available in unflavored as well as powder drink mix packets. The initial product roll-out includes a four-pack assortment of 8oz liquids for an ease of travel and use on-the-go. Doc's Drinks created a 4-pack single serving 8 oz. bottle largely because of the feedback received from parents who end up throwing away so much of the liquid left in the 1 liter bottle that they can't use within the 48 hour time period. Our single serve bottle allows a parent to take a bottle with them and leave the rest in the pantry or refrigerator for a later date. It's a cost-effective way to be prepared when sickness strikes a child without needing to run to the store for additional pediatric electrolyte product.
The Wondermade Brands company prides itself on making Lil' Wonder® with all natural flavors, all natural sweeteners, no artificial colors and no artificial preservatives which is in big contrast to the pediatric electrolyte competition. "I've heard from many parents who are seeking an alternative pediatric electrolyte to rehydrate their children when they are sick. We can do better than giving kids sugar-laden electrolyte drinks made with artificial food dyes and artificial sweeteners. Our knowledge of scientific nutrition has grown tremendously over the past few decades and I want to give my children a product based on what we know now is best instead of an old standard because that's what we're used to," said Doc's Drinks® CEO, Jackie Wonder.
"With today's focus on health, fitness and nutrition I think a better electrolyte product can meet the needs of athletes and others who need electrolyte replenishment in the heat or after exercise or over-exertion, as well. Coaches in school and community athletic programs would do well to encourage kids to mix the Lil' Wonder product with whatever they drink prior to their athletic practices to ensure proper hydration. We need to do what we can to curb the risk of dehydration especially in our young athletes. It's very important to know the symptoms of dehydration however preventing dehydration in the first place is key," said Wonder who has three active little girls herself and makes products considering what is best for the health of her own children. Lil' Wonder® has been recommended by Dr. Elizabeth Nesmith, MD, and pharmacist, Katie Adkisson, Pharm.D.
Lil' Wonder® has been selected to debut at an exhibit at the American Academy of Pediatrics conference October 22nd through October 24th, 2016, in San Francisco to over 15,000 attendees many of whom are pediatricians. "We're excited to be among the 198 exhibitors at the AAP conference. It is an honor to exhibit amongst the largest pediatric brands in the world as a small company from Marietta, Georgia," said Wonder. Lil' Wonder® will be available at Meijer stores, Walmart.com, Bi-Mart, Fresh Thyme farmer's markets, Schnuck's Markets, Kinney Drugs in November 2016 with more retail expansion slated for 2017. The woman-owned Wondermade Brands® company is building off of the success of their recent Best Food Supplier of Marietta award.
For more information on the Wondermade Brands® company, Doc's Drinks® brand or Lil' Wonder® pediatric electrolyte product please visit http://www.docsdrinks.com or call 404.218.5445