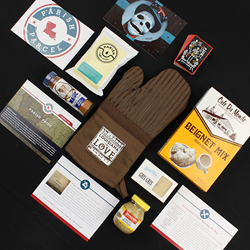 Louisiana is not just crawfish and Mardi Gras, our businesses have depth and we want to help them with their reach.
(PRWEB) October 18, 2016
A fall, twilight walk in New Orleans can conjure up feelings of mystery that few other cities can claim. Louisiana itself has a an air of the unknown that lends itself perfectly to the spirits of Halloween. Parish Parcel (http://www.parishparcel.com), a Louisiana owned and operated company, knows that Halloween is a billion dollar industry and that their home state has a unique part to play.
"People spend a lot of money this time of year, with Louisiana and New Orleans in particular offering incredible Halloween and Fall opportunities," says Jaci Russo, Owner of Parish Parcel.
The parcels that will be going to subscribers in October will focus on New Orleans, a city that is often top-of-mind when it comes to Louisiana and spirits. The city has an entire culture and tourism industry built around its other-worldly connections. Russo says it's part of their mission to highlight what people may overlook about the complex industry in the state.
"Louisiana is not just crawfish and Mardi Gras, our businesses have depth and we want to help them with their reach. We want to create the right atmosphere for them to thrive and be discovered nationwide," says Russo.
Bob Arceneaux with Parish Works explains that the Fall/Halloween parcel was a wonderful opportunity for his company.
"We have a great mid-price coffee that is ending up on more and more Louisiana store shelves," he says, "so we're excited to get the word out about Parish Coffee Works, the timing couldn't be better."
Arceneaux is happy about building a relationship with Parish Parcel that he knows will strengthen his ties in Louisiana and build a new audience outside of the state.
"Parish Coffee Works is an approachable brand, and with people craving new and affordable options, this is something to be excited about," says Arceneaux.
Parish Parcel's curated boxes come together with the help of Louisiana artists, chefs, musicians, and craftspeople. Each month 7 to 10 Louisiana tokens are chosen and shipped all over the country. You can look through partners past and present at: parishparcel.com.
This month, Louisiana's unique business side will be on full display. Anyone can sign up for a subscription, or give the gift of the Parish Parcel Cajun curated experience to someone who is craving a little taste of Louisiana. Go to http://www.ParishParcel.com to sign up.