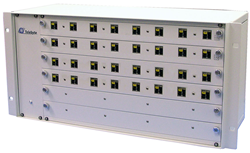 Test Automation for G.fast Physical Layer Testing
LONDON (PRWEB) October 18, 2016
Telebyte, the leader in G.fast physical layer testing, today announced the release of the Model 600 Series of Transparent Switching Matrix Modules. Available in a variety of high-performance configurations for twisted pair cable, the new product line allows users to automate G.fast and VDSL2 Vectoring physical layer testing. The Model 600 series is ideal for applications that require switching in multiple groups of CPE's, DPU's, or DSLAM line cards to the test environment.
This innovative offering is the first high bandwidth switching product on the market with low insertion loss and low crosstalk between channels - critical for testing G.fast.
"I'm very excited about this new line of transparent switches designed for G.fast," said Michael Breneisen, President of Telebyte. "Our customers can now expand their test beds without having to purchase considerably more equipment and they can streamline their testing using remote commands or the web browser. They want to do more, with less hardware, and this product line meets that challenge."
Designed to be modular for versatility and easy expansion, the series consists of a compact, rack-mountable chassis (Model 600-6SL) that accepts up to six switching matrix modules. All modules types can be combined together in one chassis and test beds can be further expanded by purchasing multiple chassis and modules.
The initial release of the product line will offer five switching matrix modules supporting twisted pair cable. These modules include one 1x32, two 1x16's, four 1x8's, eight 1x4's and sixteen 1x2's. The wide variety of switching matrix cards gives Telebyte customers the ability to find the best solution to meet their needs.
The Model 600 can be seen at the Broadband World Forum in the Broadband Forum's Interoperability Pavilion October 18th to 20th, 2016. Telebyte G.fast test tools, including one of their 600 switching matrixes, are being used to demonstrate G.fast interoperability between multiple G.fast chipsets.
About Telebyte
Telebyte is the leader in G.fast Physical Layer Testing, with a reputation built on 30+ years of innovation, customer service and product quality.
Telebyte offers crosstalk emulators, noise generators, local loop simulators, cable farm automation switches, test automation switches and digital analyzers. Its worldwide customer base includes companies in the Service Provider, DSL equipment manufacturing (DSLAMs, DPUs, CPEs), chipset design and test laboratory categories.
Headquartered in New York State, USA, Telebyte solutions are used for a variety of physical layer testing applications such as rate/reach, qualification, R&D, interoperability, vendor trials and more.
The primary focus on new development is VDSL2 Vectoring and G.fast products.
Membership: Broadband Forum, DSL Consortium at UNH-IOL.
Visit http://www.telebytebroadband.com
Contact:
Victoria Twomey, Director of Sales & Marketing
Telebyte, Inc.
sales(at)telebytebroadband(dot)com
+1 631-423-3232