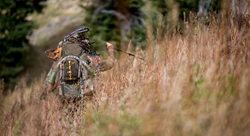 As an avid hunter and outdoorsman, I am always looking for gear that is useful in the field," Schmidt said. "There are several [Nite Ize] products that I never go into the field without.
BOULDER, Colo. (PRWEB) October 18, 2016
It's officially open season – the time of year when temperatures cool, leaves turn and outdoorsmen go off the grid in pursuit of the Boone and Crockett herd bull or monster buck. Hunters like Willi Schmidt, host of the Sportsman Channel show Pure Hunting and Nite Ize® brand ambassador, are preparing their packs for their most anticipated annual adventure and for many, Nite Ize is clipped on, packed in and tied down, ready for the expedition.
Nite Ize is an established Colorado manufacturer with nearly 30 years of experience designing solution-based products that enhance outdoor lifestyles.
"As an avid hunter and outdoorsman, I am always looking for gear that is useful in the field," Schmidt said. "There are several [Nite Ize] products that I never go into the field without."
Every well-prepared sportsman, like Schmidt, needs lighting. When hiking down to camp after a long day on the mountain or getting up early to start glassing at dawn, a powerful headlamp or handheld can make the difference between confidence and catastrophe. The new INOVA® STS™ PowerSwitch™ Dual Power Rechargeable Headlamp is ideal for harsh outdoor environments and is truly in a class of its own – it's waterproof, impact resistant, rechargeable and operates with dual-power sources, two LED color options (red and white) and four lighting modes including high, variable dim, strobe and even a lock-out to prevent accidental use when packed away.
"[The red LED] is ideal when heading out in the morning and typically doesn't spook game like a white light does," Schmidt says. "The INOVA X5 UV – Ultraviolet LED Flashlight is always in my pack as well. The UV light allows you to follow a blood trail, even in the dark."
In addition to the headlamp and UV flashlight, Schmidt relies on the classic Nite Ize S-Biner® SlideLock® in various sizes. These double wire gated carabiners feature dual spring gates and a patented SlideLock mechanism that locks each gate independently for added security. The innovative S-Biner will hold, secure and connect all kinds of essential hunting gear. "I keep several clipped to my backpack all the time which gives me the ability to clip a water bottle and any other accessory to the outside of my pack easily," Schmidt said. "I use them inside my tent to clip in a light or hang clothing to dry."
Another essential in Schmidt's pack is the Nite Ize Gear Tie® Reusable Rubber Twist Tie™. This American-made product features a small flexible wire bonded inside a durable, waterproof rubber exterior. Available in sizes ranging from three inches to 64 inches, the Gear Tie is the ultimate versatile tool for bundling, wrapping and organizing just about anything.
"I have used the larger sizes to keep my sleeping pad rolled up, hang gear from a tree, strap my elk bugle or rattling antlers to my pack and the smaller sizes are perfect for keeping charging cords organized and untangled," Schmidt said. The key for serious sportsmen is that these Gear Ties are quiet and will not damage expensive gear. They are also waterproof and extremely long lasting which makes them an excellent replacement to traditional zip ties and bungee cords.
From the northern tundra to the southern wetlands, sportsmen everywhere need to be prepared with gear they can trust during the hunt of their life. For Willi Schmidt, that gear is from Nite Ize.
About Nite Ize:
Founded on the principles of creativity and innovation, Nite Ize designs, manufactures and distributes solution-based products with quality and performance at their core. Headquartered in Boulder, Colo., the company celebrated its 27th anniversary in 2016 and offers more than 500 innovative products and accessories in seven unique categories: Mobile, Hardware, LED Lights + Accessories, Bike, Fitness, Pet, and Games + Fun. Still captained by its founder and CEO, Rick Case, the Nite Ize team is passionate about their products, their customers, their partners and the environment.
For more information, please visit NiteIze.com.
Media Contact: Kelly Richardson / 720-508-4741 / krichardson(at)niteize(dot)com