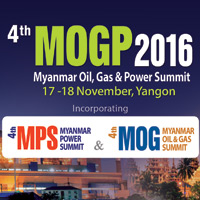 Incorporating two parallel tracks – 4th Myanmar Oil & Gas (MOG) and 4th Myanmar Power (MPS), this Yangon summit spotlights on the country's oil, gas and power industry roadmap.
Yangon, Myanmar (PRWEB) October 19, 2016
With MTU Onsite Energy (Rolls-Royce Power Systems), Wärtsilä plus Total as sponsors, the 2016 summit incorporates two parallel tracks – 4th Myanmar Oil & Gas (MOG) and 4th Myanmar Power (MPS). This Yangon meet spotlights on Myanmar's oil, gas and power industry roadmap
On the opening day morning, the combined plenary session is officiated and addressed by His Excellency U Pe Zin Tun, Myanmar's Union Minister of Electricity & Energy. Four other key presenters – James MacTaggart, GM New Markets Asia, India & MENA of Royal Dutch Shell; Tom Earl, VP BD at Total Gas & Power; Official Speaker from Ministry of Electricity & Energy plus Bui Duy Thanh, Senior Energy Economist, Asia Development Bank will next share insights on Myanmar's gas, LNG and power projects, after which the group breaks up for two separate tracks.
4th MOG track features senior officials from Myanmar Oil & Gas Enterprise (MOGE) presenting the 'Recent PSC Progress/Updates on Upstream Operations & Upcoming Oil/Gas Blocks Tenders' and Myanmar's Upstream (Offshore & Onshore) E&P activities. Top highlights are:

EPC market development, material procurement challenges by Myanmar Inspection & Technology Co.
Ongoing drilling and E&P activities jointly presented by Total E&P, Berlanga and SMART Group of Companies
Offshore Supply Base updates by Wheeler Management Consulting
Petroleum Products & Petrochemicals Demand & Imports and Downstream Processing by Ministry of Energy
Both the ministries also participate in a panel discussion on – 'Role of Myanmar in Regional Energy Security'. The Myanmar Oil & Gas track also features presentations by New Day Energy, Indian Oil Corp., P.E.S Myanmar (Puma Energy) and Surbana Jurong International Holdings.
View 4th MOG website or contact Ms. Huiyan Fu at +65 6346 9113 for more details on above track.
Meanwhile, Ministry of Electricity & Energy will discuss Myanmar's National Electrification Master Plan and Procurement Processes & Guidelines for New Projects at the 4th Myanmar Power Summit (MPS) track. The Ministry also provides details of base-load energy sources as well as grid expansion, upgrading roadmap. From the recent Mingyan project, speaker from Duane Morris & Selvam shows how PPA & IPP can be developed for Myanmar's power infrastructure.
A panelist group led by Ministry of Electricity & Energy, GE, Wartsila, Tata International and Barons Machinery & Engineering Co will discuss 'Myanmar's Power Generation Sources & Challenges'. A 'Financing' Panel Discussion entitled – Where's the Dollar coming from and go to? is analyzed by senior reps from IFC, ReEx Capital, Rothschild, Mayer Brown, Clifford Capital and Zeya & Associates. The MPS track also has panelists from – GE, Sunlabob Renewable Energy, Yangon Electric Supply Corporation and Mayer Brown.
More details on 4th MPS track available at website or contact Ms. Grace at +65 6346 9147 for assistance.
Organized by Centre for Management Technology, 4th MOGP concludes with a workshop on 'Mini LNG Supply Chain for Myanmar'.