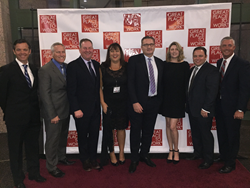 Our driving force is that we believe in the potential of people, and this starts with us believing in the potential of our people
Orlando, FL (PRWEB) October 16, 2016
A leading incremental revenue consulting firm in the hospitality industry, FPG empowers its clients to make employee engagement a top priority. A superior work environment with an engaged workforce can be the difference between a high-performing organization and one that is mired in mediocrity. FPG strongly adheres to this model within its own organization; the company offers unique benefits such as Giving Days, allowing employees to volunteer at a charity of their choice during work hours, as well as reflection days, during which employees are encouraged to step away from their daily schedules to focus on self awareness, self discovery and self improvement.
"We are receiving this prestigious award because of how strongly our people feel about the company and each other," said FPG Founder and CEO Ziad Khoury. "Our driving force is that we believe in the potential of people, and this starts with us believing in the potential of our people. We have an exceptional, dedicated team who truly cares about the company. This award is for them. Collectively we are going to continue moving this business forward and creating the kind of culture where we can all thrive and opportunities can continue to come our way. This award is for them."
FPG won this accolade based on employees' anonymous responses to an extensive survey about their levels of trust, pride and camaraderie at work. Great Place to Work® reviewed the survey results of more than 52,000 employees from hundreds of companies in the ranking process. Among the findings from the study: trust fuels business performance. For example, the Best Small and Medium Workplaces enjoy roughly three times the revenue growth of their peers, even as they provide a better experience for their people.
About FPG
FPG is a global change-management partner that transforms connections at the frontline by embedding itself on-site with its clients. The company develops true frontline ambassadors through a proven system of customized consulting, ongoing training and one-on-one coaching. For more than 20 years, FPG has generated billions in ancillary revenue for its clients in the core industries of travel, hospitality, attractions, contact centers, automotive, insurance and retail. The company trains frontline staff on how their actions and interactions can exponentially transform the guest experience, and just as importantly, FPG shows them how they can enrich their own lives. By consistently coaching the frontline team and recognizing them appropriately, FPG helps them develop a stronger belief in themselves, in the business they represent, and in the value of the products and services they offer.
About The Best Small and Medium Workplaces:
Published together with our partner, Fortune, the Best Small & Medium Workplaces rankings are based entirely upon feedback from more than 52,000 employees at Great Place to Work–Certified companies. Employees completed our anonymous Trust Index© survey, answering questions about how frequently they experience the behaviors that create a great workplace, including, for example, their assessment of the honesty and quality of communication by managers, degree of support for employees' personal and professional lives and the authenticity of relationships with colleagues.
Results from the survey are highly reliable, having a 95% confidence level and a margin of error of 5% or less. Winning a spot on this list indicates the company has distinguished itself from peers by creating a great place to work for all – not only do the majority of their employees experience the company as a great place to work, but this experience is consistent across the organization, regardless of gender, race/ethnicity, job role, or other personal characteristics. The companies with the highest employee ratings compared with organizations of the same complexity in size and scope were selected for the list. Companies with fewer than 100 employees compete for placement on the 50 Best Small Workplaces list, and companies between 100 and 999 employees compete for placement on the 100 Best Medium Workplaces list.
About Great Place to Work®
Great Place to Work® is the global authority on high-trust, high-performance workplace cultures. Through proprietary assessment tools, advisory services, and certification programs, including Best Workplaces lists and workplace reviews, Great Place to Work® provides the benchmarks, framework, and expertise needed to create, sustain, and recognize outstanding workplace cultures. In the United States, Great Place to Work® produces the annual Fortune "100 Best Companies to Work For®" and a series of Great Place to Work® Best Workplaces lists, including lists for Millennials, Women, Diversity and over a half dozen different industries.