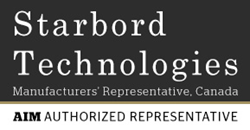 Cranston, RI USA (PRWEB) October 17, 2016
AIM Solder, a leading global manufacturer of solder assembly materials for the electronics industry, is pleased to announce the addition of Starbord Technologies Inc. as its manufacturers' representative for AIM's complete line of solder assembly materials in Canada. Starbord Technologies will support and assist AIM customers within this region in finding suitable products for their soldering needs.
Based in Eastern Canada, Starbord Technologies Inc., has over 60 years of manufacturing and sales experience in the PCBA industry. Starbord Technologies' proven commitment to providing the highest quality of service coincides with AIM's mission and sustains AIM's commitment to excellence. This new partnership is a valuable contribution to AIM's extensive network and reinforces AIM's value-added philosophy of providing top-notch support to its customers worldwide.
"We're pleased to announce this new partnership with Starbord Technologies," said Andy Dolan, AIM's Vice President of Sales. "We have total confidence that AIM customers will be provided with exceptional service and support."
For sales and support please contact Bob Beauchemin at 514-984-5025, or by email at bob(at)starbordtech.com.
For more information on AIM Solder's complete line of advanced solder products and global technical services, please visit http://www.aimsolder.com.
About AIM
Headquartered in Montreal, Canada, AIM Solder is a leading global manufacturer of assembly materials for the electronics industry with manufacturing, distribution and support facilities located throughout the world. AIM produces advanced solder products such as solder paste, liquid flux, cored wire, bar solder, epoxies, lead-free and halogen-free solder products, preforms, and specialty alloys such as indium and gold for a broad range of industries. A recipient of many prestigious SMT industry awards, AIM is strongly committed to innovative research and development of product and process improvement as well as providing customers with superior technical support, service and training.
Upcoming Events:
October 18-19, 2016 – SMT Brno – Brno, Czech Republic
October 26, 2016 – SMTA Long Island– Hauppauge, NY
November 3, 2016 – SMTA New England – Worcester, MA