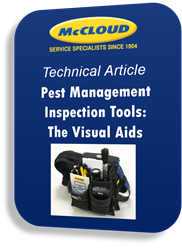 Pest management professionals and food plant staff need to be experts at this important pest management component to ensure food safety measures are in place and corrective actions can be taken should there be a pest issue,said Patricia Hottel, technical
South Elgin, Illinois (PRWEB) October 17, 2016
McCloud Services, a leading pest management company servicing Illinois, Indiana, Iowa, Kansas, Kentucky, Missouri, Tennessee, Ohio and Wisconsin, is generating awareness on proper visual inspection tools needed for accurate pest management inspections in food plants and food processing facilities.
Ongoing pest management inspections are required in food processing facilities. In fact, other than documentation, proper visual inspections are the skill needed in all segments of the food plant pest management program. Before the control plan is established, detailed inspections are required to form risk assessment and are part of the monitoring, corrective action and verification process.
"Both pest management professionals and food plant staff need to be educated and trained on proper inspection tools needed as part of the pest management program. Pest management inspections rely heavily on the ability to see pests, pest activity and conditions favorable to pests. There are a variety of tools, such as a flashlight, magnifier, camera and traps, that when properly used, can increase the inspector's ability to see pests and evidence of a pest infestation. Pest management professionals and food plant staff need to be experts at this important pest management component to ensure food safety measures are in place and corrective actions can be taken should there be a pest issue," said Patricia Hottel, technical director of McCloud Services.
McCloud Services discusses the proper visual tools and aids needed for a complete pest management inspection in its article "Pest Management Inspection Tools: The Visual Aids."
To learn more information about proper inspection tools, please download McCloud Services' article here: Download Now: Pest Management Inspection Tools
Contact McCloud Services to learn more about their food safety pest management programs at 800-332-7805.
About McCloud Services
McCloud Services is a leader in integrated pest management solutions, serving the food supply chain of custody, health care, hospitality, property management, retail industries and residential markets. With a foundation of 112 years of industry and market experience, McCloud Services carries out its mission to protect food, human health, and the environment while ensuring the safety of its employees and the public. McCloud Services is a regional service provider with locations in 11 states. For more information, please visit: http://www.mccloudservices.com.
Proud to serve the largest food-related brands in the U.S.
# # #