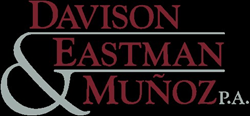 "We have been building on our nearly 30-year foundation over the past few months," said James A. Paone II, managing partner at Davison, Eastman & Muñoz.
Freehold, NJ (PRWEB) October 17, 2016
Davison, Eastman & Muñoz, P.A. is pleased to announce that attorneys Manny J. Alvelo and Nicole Sorokolit Croddick joined the Monmouth County, NJ, law firm in October.
Manny Alvelo, Counsel, will work in the NJ law firm's Tax and Estate Planning department. His practice will focus on advising individual and corporate clients with respect to estate, inheritance and gift tax planning as well as on asset protection, wealth preservation and the operation and succession of business enterprises. An experienced and well respected leader in his field, Alvelo regularly lectures before various professional associations on topics relating to estate planning. He also has significant experience with residential real estate matters, representing both buyers and sellers.
Alvelo received his law degree from New York Law School and is admitted to practice in New Jersey and New York. He is a member of the New Jersey State Bar Association and the Monmouth County Bar Association. He currently serves on the Board of Directors for the Lincroft Center for Children and serves as the second vice chair for the Eastern Monmouth Area Chamber of Commerce. He is also a member and the secretary/treasurer of the Estate & Financial Planning Council of Central New Jersey.
Nicole Croddick, Of Counsel, will focus her practice on management side employment and labor matters. She consults with companies on human resources issues and has conducted internal investigations on ethical and legal violations. Additionally, she has drafted employee handbooks, severance agreements, has updated hiring and employee discipline forms and procedures, and facilitated trainings on a variety of labor and employment law and compliance topics, including Continuing Legal Education. Croddick has also taken her experience and used it appropriately as a subject matter expert in numerous ethical/legal training videos for LRN Corporation, a leader in ethics and compliance training to major organizations worldwide. Bilingual, she can conduct all work in both English and Spanish.
Croddick is admitted to practice in New Jersey and in New York. She is a board member of Rumson Country Day School's Diversity and Inclusion Board. She received her J.D. from Catholic University of America, Columbus School of Law and her B.A. from Boston College.
"We are pleased to welcome Manny and Nicole to our group," said James A. Paone II, managing partner at Davison, Eastman & Muñoz. "We have been building on our nearly 30-year foundation over the past few months by hiring two attorneys, Sylvia L. Breitowich and Robert F. McAnanly, Jr, in July and promoting Matthew K. Blaine and Blake R. Laurence to partner in August. This latest move further strengthens our firm and adds to its depth of experience."
Founded in 1988, Davison, Eastman & Muñoz, P.A. represents clients in corporate litigation as well as in civil and criminal cases, business and employment law, trusts and estates, municipal, community associations, real estate and land use and DWI defense. Five of the firm's attorneys hold the distinction of being certified by the New Jersey Supreme Court as trial attorneys in civil, criminal or municipal law. Our attorneys are encouraged to be civic-minded, follow their passions and support their communities. One conduit to achieve this is through its Davison, Eastman & Munoz, Inc. Charitable Fund, a 501 (c)(3) established in 2006, which raises funds to directly benefit local individuals and families who are in need or who have suffered a financial or personal hardship. The law firm's offices are located in Freehold and Toms River. For more information, visit http://demlplaw.com, or call (800) 262-7170.